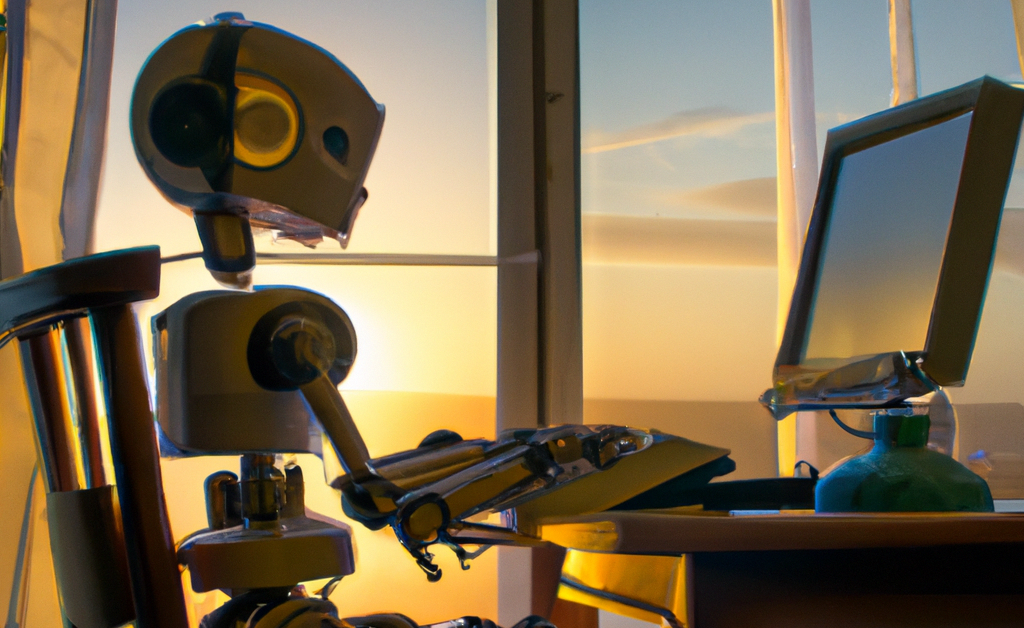 ChatGPT (short for "Chat Generative Pretrained Transformer") is a variant of the GPT-3 language model developed by OpenAI. It is designed to generate human-like text in response to prompts provided by the user. As a vacation rental host, you could potentially use ChatGPT to automate some of the messaging and communication with your guests as well as listing descriptions, website content, local attractions and activities, and more.
To use ChatGPT, you would need to provide a prompt to the model and then allow it to generate a response. You could then review the response and edit it as needed before sending it to your guest or upating your website and listing descriptions. It's important to note that ChatGPT is a tool designed to assist with communication and should not be used to replace personal interaction with guests. It is always a good idea to establish a personal connection with your guests and be available to answer any questions or concerns they may have during their stay. That said, let's have a look at some specific use cases with examples.
Automating responses to common questions: ChatGPT can be used to generate automated responses to frequently asked questions, such as directions to the rental property, information about local attractions, and check-in instructions.


Example prompt: What are some Boulder, Colorado attractions that are off the beaten path?

GPT Reply:

Boulder, Colorado is home to a wide variety of attractions, both well-known and off the beaten path. Here are a few lesser-known attractions in Boulder that you might enjoy:

The Boulder Dushanbe Teahouse: Located in the heart of downtown Boulder, this beautifully decorated teahouse was a gift from the city's sister city, Dushanbe, Tajikistan. The teahouse serves a variety of teas and light meals, and the interior is adorned with intricate hand-carved and painted wooden details.
The Boulder Creek Path: This scenic walking and biking path runs along the Boulder Creek, passing through a variety of natural habitats and urban areas. Along the way, you'll find several parks, playgrounds, and other attractions.
The Boulder Reservoir: Located just north of the city, the Boulder Reservoir is a popular spot for swimming, boating, and fishing. The reservoir is surrounded by beautiful open space, and there are several trails in the area for hiking and biking.
The Boulder Museum of Contemporary Art: This small but well-regarded museum features a variety of contemporary art exhibits, including works by local and national artists.
The Flatirons: These iconic rock formations are a popular destination for hiking, rock climbing, and picnicking. The Flatirons are located just west of Boulder and offer stunning views of the city and the surrounding mountains.

I hope these suggestions help!

Generating personalized messages: ChatGPT can be used to generate personalized messages to guests, such as welcome messages or recommendations for local restaurants and activities.


Example prompt: Write a welcome message for my vacation rental guests that are a family of 5, with kids aged 9, 6 and 2 that also have a dog with them

GPT Reply:

Dear Guests,

Welcome to our vacation rental! We are so glad that you have chosen to stay with us, and we hope that you will have a wonderful and relaxing time during your stay.

We know that traveling with kids and a pet can be challenging, so we have taken extra care to make sure that our home is family and pet friendly. We have provided a variety of amenities and facilities to ensure that you have everything you need during your stay, including a fully-equipped kitchen, a washer and dryer, and plenty of space for your family and furry friend to spread out and relax.

To help you make the most of your visit, we have provided some information about the rental property and the local area in the welcome packet that you will find in your room. If you have any questions or need any assistance during your stay, please don't hesitate to reach out to us.

We are here to help make your vacation as enjoyable as possible, so please let us know if there is anything we can do to make your stay more comfortable.

We hope that you will enjoy your time in Boulder and all that the area has to offer.

Sincerely,
[Your Name]

Creating listing descriptions: Especially if you have many similar properties, it's a real pain to come up with different descriptions for each one. ChatGPT can help by suggesting descriptions you alter as you see fit.


Example prompt: Write a listing description for airbnb for my home in Boulder CO close to the slopes, has a great view of the mountains, and is great place for skiers to stay at. The home has 3 bedrooms, 2 bathrooms, and can sleep 6. It has all the necessary amenities and facilities.

GPT Reply:

Welcome to our cozy mountain retreat in Boulder, Colorado! Our home is located just a short drive from the slopes, making it the perfect place for skiers to stay.

As soon as you arrive, you'll be greeted by stunning mountain views. The living room features floor-to-ceiling windows that showcase the breathtaking scenery, making it the perfect spot to relax after a day on the slopes.

The home features three bedrooms and two bathrooms, providing plenty of space for up to six guests. The bedrooms are tastefully decorated and offer comfortable beds to ensure a good night's sleep.

The kitchen is fully equipped with all the necessary amenities and facilities, including a stove, oven, microwave, and refrigerator. Whether you're cooking a gourmet meal or just heating up leftovers, you'll have everything you need to feel right at home.

In addition to its great location and comfortable accommodations, our home also offers a range of amenities to ensure that you have a memorable stay. These include a hot tub, a fireplace, and a deck with outdoor seating.

We can't wait to welcome you to our mountain retreat and help you make the most of your ski vacation in Boulder!

Creating FAQ pages or guides: ChatGPT can be used to generate content for an FAQ page or guide for guests, including information about the rental property, local attractions, and check-in and check-out procedures.


Example prompt: Write a checkout checklist.

GPT Reply:

Here is a sample checkout checklist for vacation rental guests:

Pack all of your belongings and make sure you have everything you brought with you.
Leave all keys, fobs, and other rental property access items in the designated location.
Make sure all doors and windows are locked.
Leave the rental property clean and tidy, including washing dishes, taking out the trash, and removing all food from the fridge.
Leave all furniture and decorations in the same location and condition as when you arrived.
Turn off all lights, appliances, and electronics.
Return any borrowed items, such as towels or linens, to their designated locations.
Double-check that you have not left any personal belongings behind.
Leave a note or message for the host if there are any issues or concerns that need to be addressed.
Leave a review or feedback for the host to let them know about your stay.

By following this checklist, you can ensure that you leave the rental property in the same condition as when you arrived, and that you have a smooth and hassle-free checkout experience.

Generating reviews or testimonials: ChatGPT can be used to generate reviews or testimonials from past guests, which can be used to promote the rental property and attract new guests.
Example prompt: Write a review for my airbnb guest

GPT Reply:

[Guest's name] was a fantastic guest – they were very respectful of the property and left it in great condition when they checked out.

In addition to being a considerate guest, [guest's name] was also very easy to communicate with. They were prompt in responding to messages and were very understanding when I needed to make a few changes to the reservation.
[guest's name]
Overall, I would highly recommend [guest's name] as a guest to any host. They were a pleasure to host and I would be happy to have them again in the future. Thank you, [guest's name], for being such a great guest!
How can I use ChatGPT?
Just visit https://chat.openai.com/ and follow the instructions. It's super easy! But don't forget: Any language model is as good as the promtps it receives, so make sure you try out a few different ones until you get the best results, and always (ALWAYS!) read through the entire text generated to make sure nothing is off, and add, subtract or amend whetre needed.
Happy GPTing!
P.S. This article was written by ChatGPT, with the prompt "Write 5 ways that vacation rental hosts can use chatGPT with actual examples" and a few minor amendments by me, a human.