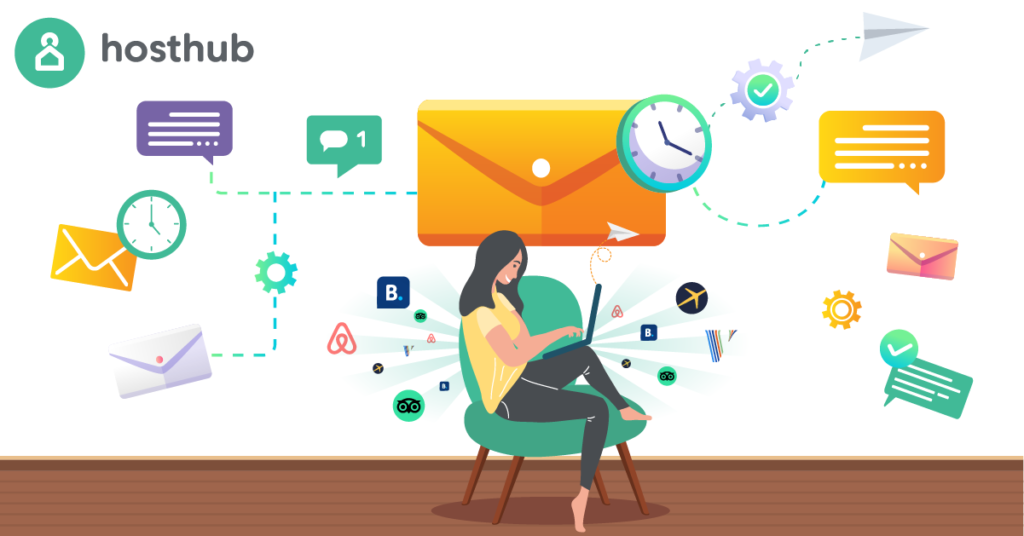 As a vacation or short-term rental host, being courteous and keeping your guests informed should be one of your top priorities. Any successful host can tell you they make sure to keep their guests up to date as much as they can via personalized emails.
From bookings to reminders and so much more, sending your guests emails to keep them in the loop will be a key to your success. What kind of emails should you be sending? We're glad you asked.
Follow along as we cover some of the most important emails that you as a host should be sending to guests.
1. Booking confirmation
This will be one of the first emails you send to guests, so make sure it has all of the bells and whistles of personalization to make them feel welcome. You will want to start by addressing your guests by name and include a friendly note about how happy you are they've chosen to stay at your place. Be sure to include their reservation dates, the name and address of the property they will be staying at (including, ideally, a Google Maps pin), and their payment invoice, if applicable (including any additional amenities they may have added to their stay).
Lastly, reiterate your cancellation and refund policy, just to be sure that they see it again. Basically, this initial email will be your first impression to your guests, so you want to let your personality shine.
2. Reminder of your upcoming stay
This is an email that you will send out a few days to a week before your guests' stay. It will help to remind your guests they have a nice vacation coming up, which will make them happy, as well as the details they will need to know when checking in. Some of these reminders should be things like check-in and check-out procedures, the address of the rental property, parking information, house rules, luggage storage, and whatever other tidbits of information you want to mention. You can even recommend a few things for them to explore in the area, such as restaurants, cafes, bars, malls, or local landmarks.
3. Check-in Instructions
This email should be sent the day before your guest's check-in date. It should re-outline the steps for check-in and get them excited for this trip! If you have a digital welcome book or house manual, this would be a great time to include that. You can make this one super simple, for example:
Dear [guest name], I hope you're ready for vacation! Here is the check-in process one last time for you, and we look forward to seeing you soon. If you have any questions, don't hesitate to get in touch.
4. Check-out instructions
While you do include the check-out instructions in your first guest email, it may be helpful to send a reminder the day before your guests check out as a refresher for the process. If there are certain items like towels and linens that need to be placed in a designated area or certain things that the guest is responsible for cleaning, this is the time to mention them again. This can include turning off the lights, throwing away any garbage, and cleaning dirty dishes.
5. Review Reminder
When it comes to getting a great review from your guests, the key is all about timing. You want to send this review reminder email within 3 days of their stay with you. This way, you will catch them while they are still in "vacation mode" and have a clear memory of their stay.
Be sure to thank them for staying with you and that you look forward to hosting them again soon. You can use all the highlights of the rental property to refresh them on what they may have enjoyed, but you don't want to go overboard to the point where they feel pressured or forced to leave a review, just a gentle nudge. However, if you suspect that they will leave a negative review, you can absolutely cancel this email.
6. Direct Booking and Discounts
Saying thank you to your guests for staying is a great idea, but you can take it a step further by offering them a discount for their next visit. Tell them about your website and give them a discount for direct bookings to see if you can draw them back in. With this email, you will want to be highly flattering…but not to the point where you get creepy about it. Be friendly, genuine, and appreciative.
Automating your guest messages
We get it – emailing guests is a time-consuming and repetitive task, so a smart host will automate the process and create templates. We recommend using Hosthub's Automated Messaging tool, where you can put all of your guest communication on autopilot, freeing up your time to take care of other things!
With our Automated Messaging feature, hosts can send out emails to their guests at specific intervals of their booking journey. These emails can be customized and scheduled based on specific triggers like check-in dates.
Here's a quick glance at how it works:
Automated Messaging rules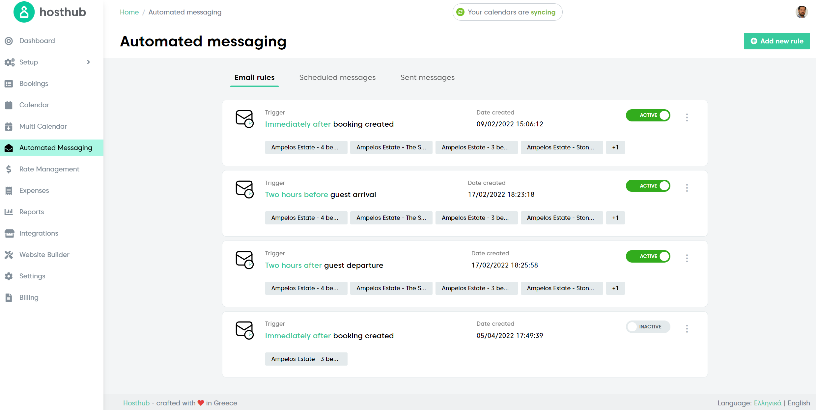 [click the image for a larger version]
This first screen shows a list of all your rules so you can easily edit, delete, or add a new rule.
Create a new email rule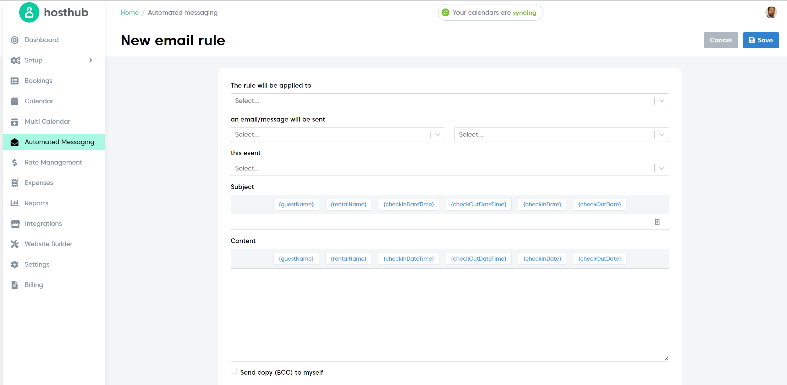 You can create new rules easily and add filters and dynamic tags to personalize your templates.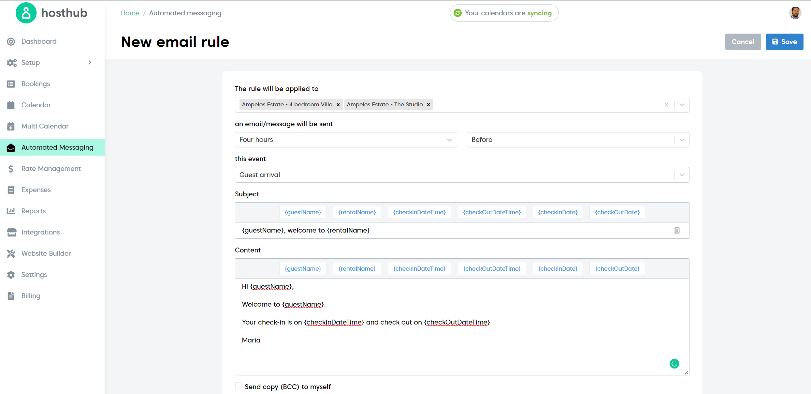 This screenshot shows an example of what one of your automated emails may look like and what would be included.
Sent messages dashboard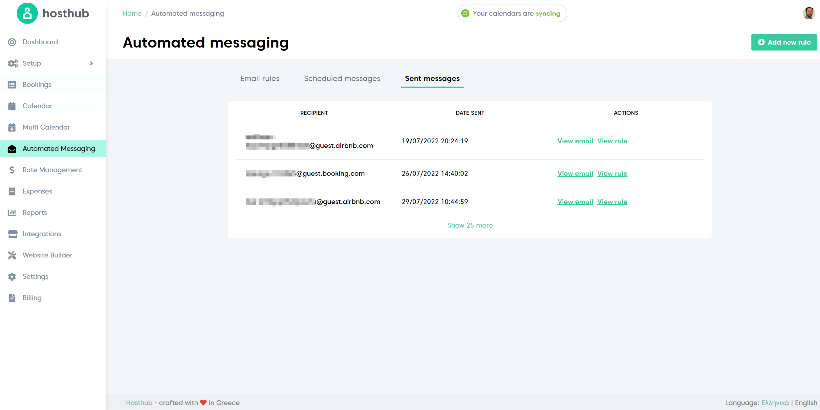 Here, you can see that this dashboard allows you to view all of the emails that you have already sent out to guests.
Scheduled messages dashboard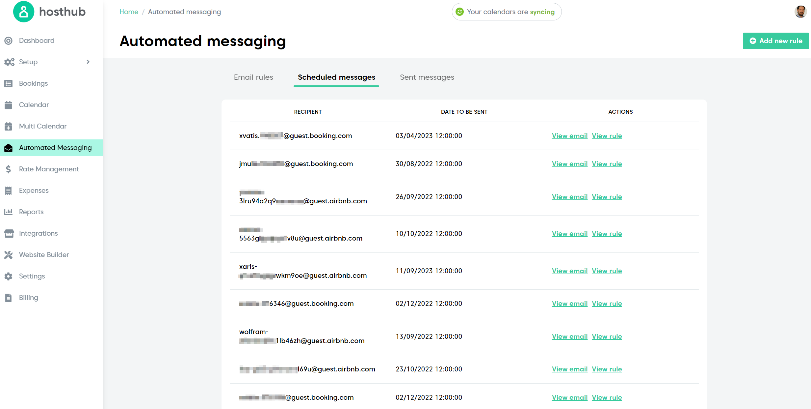 This last screenshot shows that you can view all of the emails that are queued and ready to go out to guests.
Let's recap: communication with your guests is the key to success as a vacation rental property host. You can use a Channel Manager like Hosthub to automate this process for you, which means you can put more focus on the other aspects of hosting. The examples above are the most important emails you will use, so we hope you've learned something useful. Best of luck with your hosting!