Fairbnb.coop, is reshaping the idea of short-term accommodation rentals. As a cooperative lodging platform, their emphasis is on communities and individuals. They establish a link between mindful travelers and local hosts, allocating 50% of their net commission towards projects within the community. This unique model allows travel experiences to directly promote the sustainability and health of the communities. Their hosts, who abide by laws and maintain sustainable practices, actively engage in building a tourism model that respects both humanity and the environment. They offer genuine local experiences that honor both their guests and the broader community.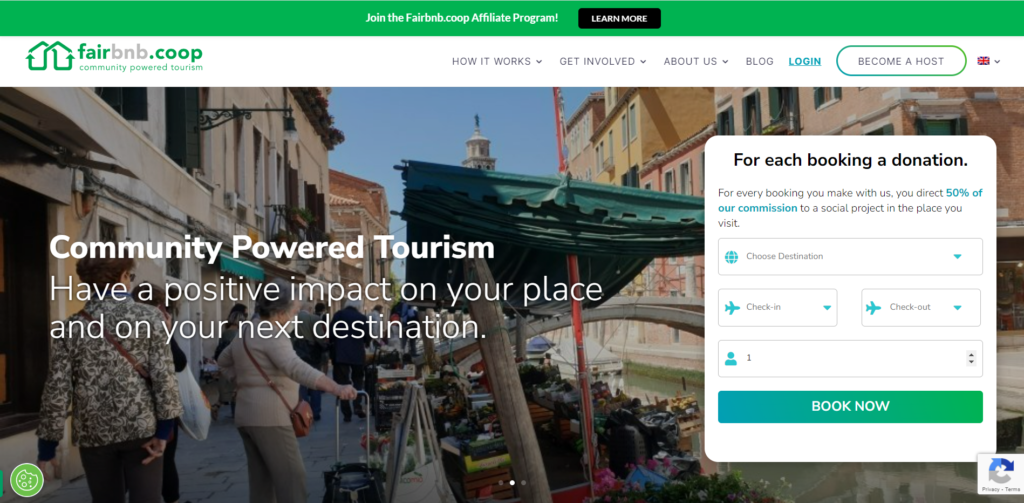 Targeting: Fairbnb's target audience primarily consists of conscious travelers, community-minded individuals, and eco-friendly tourists who appreciate local cultures and seek to positively impact communities and the environment through their travel choices.
Founded: 2014 (Venice, Italy)
Commission: The host is charged a uniform fee of 3% based on the overall booking cost, while the guest's fee varies between 5-20%. The guest's fee depends on several factors, including the duration of the stay, the location, and the initial cost of the reservation.
Payments: The platform collects payments
Pros
Fairbnb's model supports local community projects, which could enhance the reputation and attractiveness of the hosting location, indirectly benefiting hosts.
It has a very low commission per booking
The platform attracts conscious travelers who respect local customs, cultures, and regulations, which may lead to more positive experiences for hosts.
Cons
As a relatively new and niche platform compared to giants like Airbnb, the potential guest pool might be smaller.
Want to sync Fairbnb with your other channels?
Sign up for a 14 day free trial of Hosthub