As a vacation rental owner, marketing, selling, and managing your property isn't easy work. At this point, you've probably listed your home on one or multiple vacation home rental property marketplaces. Normally, this is the first step towards success and gaining clients.
The next step that comes right after this is consistently marketing your property to maximize your bookings & revenue. Marketing comes in many different forms – from social media presence, using acclaimed bloggers and influencers, social media boosting to building your own property website.
The main marketing tool for your vacation home would be your own website. A website where you can accept direct bookings, market your property, provide information, grow your brand, showcase your amenities, and generate new leads.
Why Should You Have Your Own Direct Booking Website
One of the main challenges of anyone trying to break into the world of property management is how to stand out and break the clutter. Despite the fact that building a website is a bit more work, it still remains one of the best ways to market your properties.
Building your own property website has an array of advantages, including:
 Being ideal for property owners with, both, single and multiple vacation rental properties. Whether you own one large house with multiple rooms, a few rooms in different houses, or several vacation properties – a website will allow you to fully optimize the experience with what you have.
The website will help you gain traction, build your reputation, and gain more leads by giving your guests a more well-rounded experience and connect with more potential guests.
 Taking control of your marketing has never been easier. With a website, you'll have all the flexibility needed to tweak your marketing strategy. You can create a blog article, delve into newsletter marketing, use social media, or use SEO. Having your own online space facilitates communication & marketing between you and your guests.
You'll be able to avoid booking fees. Costs usually escalate when you put into account all the different fees you have to pay from posting on multiple booking platforms. You'll be making extra money just due to the fact that you're not paying additional fees every time someone books your property.
 You'll be able to build your brand. Building your own website will help you differentiate yourself and your property from others. You'll get to enjoy a strong branding experience with your own logo, pictures, tone of voice, and much more.
Here's How to Build Your Own Website to Accept Direct Bookings
Now let's get straight into business. In this guide, we'll provide a step-by-step guide that will take you by the hand and lead you through each stage separately until you have your very own functioning property website!
IMPORTANT: For this guide, we've used Godaddy as a hosting provider, Stripe as a payment provider, HBook, or PinPoint as our booking engine, and Adomus as our theme. You're free to use any other service you prefer instead of these, we just had to choose services for the screenshots and instructions. Neither Hosthub or the authors of this guide are affiliated with or receiving commission from these services.
Before diving into the details, let's have a look at the big pictures. These are the main steps:
Let's build our website!
If, despite our guide below, you still want a professional to create your website in minutes, visit our Website Builder page to find out more.

Step 1: Open an account with GoDaddy (or any other hosting provider you prefer).
The first step will be essential for you to create your website, choose a domain, and connect it to your actual website.
Go to GoDaddy.com.
Click on Sign In.
Click on "Create My Account".
Write down your email, choose a username and password, and agree to the terms & services.
This will take you straight to the Products page.
Click on the image above to see the process step by step
Step 2: Buy Your Property Domain.
[top]
Now before you actually buy your property domain, there are a few things that you need to keep in mind. Here are a few tips on how to choose your domain name:
Give a name that will differentiate from other players in the market. Be as unique as possible and stray away from generic names.
Your domain name does not have to be your property name.
Your domain name should be an extension of your brand. Stay consistent!
Use a domain that includes your brand name and make sure it's easy to spell.
Use keywords in your domain name. For example "NewYorkSkyHighApartement" vs. "Apartment James".
Here's how to buy your property domain:
Click the image below to see the process step by step
Write in your preferred domain name in the search and press on search.
Check whether or not the domain is available for us. *Tip: If it's not, GoDaddy suggests similar domains that are below.
Click on Add to Cart.
Then, click on Continue to Cart.
You will be prompted to write in your Billing Information next. This includes name, phone number, postal code, and address.
Here, make sure sure you register your domain for the number of years you want (1 or 2 years)
Next, you'll go to Payment.
You're done!
In this case, we've chosen ellicottvillehideaway.com as our domain name.

Step 3: Get A Managed WordPress Hosting from GoDaddy
This is when you realize how easy it is to build your website.
With this one-click process, you'll be able to build a website without a professional interfering. WordPress is a cost-effective and user-friendly website that helps you build and run your website in no time. Whether you have a small hotel, a b&b, or even just a room, you'll find that a managed WordPress will work for you.
A Managed WordPress is an optimized hosting platform on GoDaddy that helps you:
Make your WordPress run more securely.
Helps you manage basic tasks like installation, backups, updates, and performance-enhancing caching.
And helps you have everything on one platform.
To sum it, a managed WordPress does the heavy lifting for you. You don't need to be tech-savvy to even make your site load faster.
Here's how you do it:
Click the image below to see the process step by step
Choose the Basic package ($6.99) to Add to Cart.
Fill in all the information needed and purchase.
Important: In order to be able to set up Adomus theme correctly, you need to disable the CDN in GoDaddy's settings.
> Go to My Account → Managed WordPress → Production Site → CDN → Disable (green switch button)
Now, we're going to leave the GoDaddy website for just a bit for the next step.

Step 4: Download a vacation rental theme from Maestrel that includes the HBook Booking plugin and then install it on the managed WordPress.
It's time to download your website's theme. For this specific case where you're building a property website, there are a few things you need to keep in mind:
Choose a vacation rental theme.
Make sure it includes the HBook Plugin. (We'll be talking about this plugin in-depth later through this guide).
Here are the steps to downloading a theme:
Go to Maestrel
Click "Buy Now"
3. Then fill in your billing information. You can pay using your card, Stripe or Paypal.
Next, you will need to install that theme:
1. Υou will receive a confirmation email with a download link. Download the zip of the theme.
2. Now, go back to your account on GoDaddy, navigate to "Managed WordPress", click Manage under Website, and then "Edit Site."
3. This will take you directly to your Dashboard on WordPress. That will be the first time during this process where you get to encounter your dashboard where all the magic happens.
4. Once you're logged in to the Dashboard, go Appearance, and then click on Themes. You'll find a quick overview here of all WordPress default themes.
5. Click on Add New, and that will take you to your Theme Directory.
6. Click on Upload Theme.
7. You'll find a button displaying the file uploader. Here, you just need to find your theme's .zip file and click on Upload Theme.
8. Once it's uploaded, Install Now.
9. The last step is to Activate Theme and you're ready to go!
Want us to build it for you? Read more here
Step 5: Open Stripe to accept cards.
Now we need to make sure that not only do you build a property website but that it's also fully operating by the end of this process and you're ready to accept your first direct booking. For this step, we'll be using Stripe. Stripe is a payment gateway solution that allows individuals to open an operating account.
In case that Stripe does not support your country, please check all the available payment gateways here.
Here's how to open a Stripe account:
Go to Stripe & Create an Account.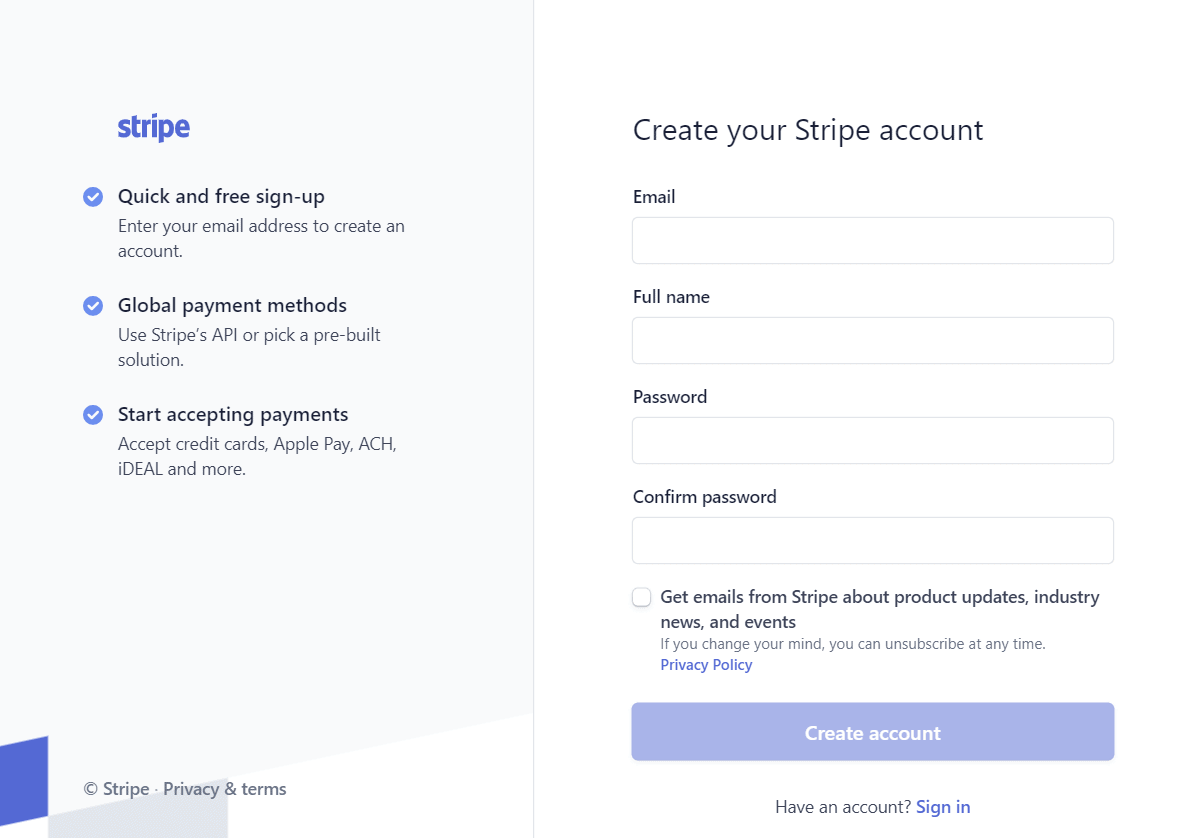 Go to Stripe's Signup form.
Choose your country where you'll be doing your business & where your bank account is located.
Log in to your account, fill in all your details including:
Account details.
Social security number.
Address.
Credit card statement details.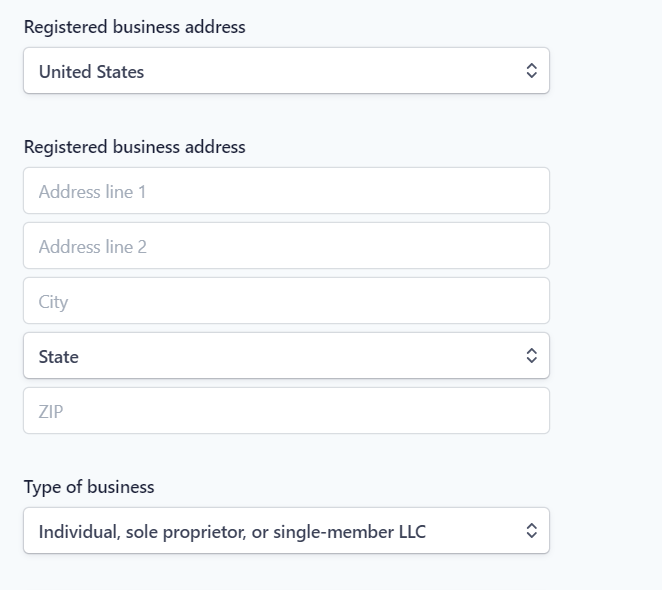 5. . Once you've signed up, use the toggle in the top-left of the screen and click on Activate Account. This makes your account live.
6. You will need to make sure you get your set of identifiers called API Keys. Click Account, then Account Settings, and select API Keys.
7. Copy the Live Secret Key and the Live Publishable Key and keep them saved.
Before we get into the next step, the Adomus theme we have installed here allows for a Demo Installation. This has multiple advantages and disadvantages and you get to choose whether you want to go with it or not depending on your preferences,
On one hand, a demo theme is perfect for first-timers who are not very familiar with WordPress. It lays out everything for you and all you need to do is to edit from there. However, it doesn't give you as much flexibility when it comes to creating your own full experience.

Step 6: Activate HBook Plugin.
You first need to activate your Hbook plugin. It's already installed, so all you need to do is to go to Plugins, view all and click on Activate Plugin.
Once you've activated it, you need to find Licenses on the bottom-left of the menu and activate your license to unlock the Hbook Plugin. You can do this by entering your Purchase Code.
What's the HBook Plugin and why do I need it?
To give you a quick idea of what you just activated, the Hbook plugin is essential for any website that features any sort of booking options.
No matter what you manage, with its help, you'll be able to manage every aspect of the bookings. These include:
Customizable search & booking forms.
Ability to set up multiple times of payment gateways.
Online documentations to go back to in case you need any support later on.
Works with any WordPress theme.
We'll walk you through all of the different features in the HBook plugin as we optimize them below.
Step 7: Setup your properties in the Accommodation section.
Now it's time to set your first property! Exciting, isn't it? Before you do so, I want you to make sure you have a few things ready with you. This includes:
One hero image of your property. Make sure it's a professionally-shot picture, it shows all of your property's best assets and it's high-quality.
Have a description ready for your property. A few tips for this include:
A quick summary that includes the most important things about your property.
A catchy headline for your property.
Add the number of rooms, amenities, neighborhood information.
Add any experiences that might be happening nearby.
For a more detailed guide on how to write the perfect description, you can read here.
Once you have all of this ready, now you'll start setting up your property.
Go to Accommodation, and Add New.
Put in your catchy headline in the Title section.
Next, copy & paste your description.
Click on Add Media to add a few pictures of your property.
On the right, you'll find Set Featured Image. This will be your hero image.
Next, you'll start filling up information in the Accommodation Settings.
You will write the number of accommodations of this type (this is required).
You need to enter the normal occupancy of the accommodation. This will dictate the accommodation rate.
Enter the maximum occupancy (this is the maximum number of people allowed in your property).
Enter the minimum occupancy. This is optional.
7. Once you're ready, click on Publish. If you'd like to see how the page will look like on your website, click on Preview.
What happens if you change your price according to the number of persons?
Use the number of occupancies to set the number of people where you want to set your base rate on.
Go to Hbook > Rates and set the "Price per adult above normal occupancy".
Step 8: Setup your properties on the HBook Plugin.
We'll start off with the Pricing Settings. There are multiple subsections in this section. Before we learn about how we set seasons & their rates, we'll walk you through what seasonal rates are and why it's important to set them.
What are seasonal rates?
Seasonal rates are basically a deviation of your standard rates during certain times of the year or events. You can change your seasonal rates, for example, based on:
Peak summer months if your property is a beachfront property.
Winter holiday if your property is located in a ski area.
If there is a popular local event and you know there will be an influx of tourists.
Why should you set seasonal rates?
Setting up seasonal rates is essential for anyone who owns a property. Of course, keeping the price the same will make your logistics easier but you won't be able to maximize your revenue and capitalize on increased demand.
How to know what seasonal rates to charge?
Knowing how much to charge is not easy and can be tricky at times. It can even backfire if you charge too much during a high peak event or season. Some tips include:
Checking your competitors as your first point of reference.
Doing quick research of similar properties.
Check what those properties' are by creating a preliminary booking.
How to set your seasonal charges?
First, you need to determine what intended revenue you want over a certain period of time.
Work backward from there, and figure out what your prices would need to be for a healthy price drop or price surge.
Seasons
First, go to Hbook > Seasons.
For this plugin to function, you first need to add seasons. Choose your seasons according to your demand cycles, festivals, events, summer & off-peak, weekdays, weekends, school holidays, or major holidays.
Set a start and end date to your seasons
The end date needs to be equal to the maximum date for a reservation.
Booking rules
Go to Hbook > Booking rules. These are optional but will help you optimize your reservations as much as possible. You have 5 types of booking rules:
Check-in days: when are your guests allowed to check-in?
Check-out days: when are your guests allowed to check out?
Minimum stay.
Advanced booking rules: if you have any compulsory rules for special rates/discounts/coupons.
*Tip: Be flexible with your rules. Make sure you offer flexible check-in and check-out days and hours. Some guests might never even get to see your property if you have strict booking rules.
Rates
Go to Hbook > Rates.
This needs to happen after you set your accommodation type & seasons.
Here you can choose:
Prices of adult/child above normal occupancy.
Any special rates you have for certain guests and seasons.
Discounts (when the criteria of search meet the criteria of the discount rule you put in).
Coupons.
Fees and Taxes
Go to Hbook > Fees.
Both fees and taxes will be compulsory and will be added on top of every reservation.
They can either be a fixed amount or a percentage.
These can be applied to:
Accommodation prices.
Extra-services prices.
You can add the fixed fees on the following:
Per person.
Per person per day.
Per accommodation.
Per accommodation per day.
Per booking.
Fixed fees usually include:
Cleaning fee.
Service fee.
Taxes.
Tourist taxes.
Extra-service tax.
Alternatively, you can install PinPoint Booking System.
*Contact us on the live chat for a 30% discount code to purchase the PinPoint Booking System*
Install PRO version
Follow the next steps on how to download Pinpoint Booking System WordPress Plugin (PRO version) after you purchased it from their shop:
Step 1

– Go to the shop and Sign in into My account page.

Step 2

 – Select the tab Shop->Licences.

Step 3

 – Click Download icon from the right, to download the file dopbsp.zip on your computer.
Automatic installation
To add Pinpoint Booking System plugin using the built-in plugin installer:
Step 1

 – Go to Plugins->Add New in WordPress administration area.

Step 2

 – Click Upload Plugin on top of the page.

Step 3

 – Click Choose File and select dopbsp.zip from your computer, the one you downloaded from their shop.

Step 4

 – Click Install Now to install Pinpoint Booking System.

Step 5

 – After installation is complete, click Activate Plugin to activate Pinpoint Booking System.
Administration
Add calendar
Set availability for each calendar
Set taxes & fees
If you want our experienced team to build you a professional website personalized to your needs, read more here.
Step 9:  Add a payment method.
For Hbook
Hbook also allows you to choose different payment methods from your guests.
Go to Hbook > Payment Settings and customize according to your process and requirements. 
The options include: 
Choose between different payment options. 

Whether your guests need to leave a security deposit or not. (Here you get to choose the

amount

, and

when

they pay it. If it's before they arrive, it will be added to the total amount)

Payment currency to choose from.
Payment gateway: 
Here you can activate your payment gateways. In our case, we've chosen

Stripe.

All you'll need to do is add

the Test Publishable Key and Secret Key. 
For PinPoint
(Stripe is not required as payment getaway in PinPoint Booking System Plugin)
Step 10: Add content to your direct booking website.
In the world of marketing, content is king. Now in the world of vacation property rentals, content is essential for your guests. Creating a content marketing strategy for your website will increase traffic, build your brand more, and help your guests form a connection with you & your property before even setting a foot in there.
There are plenty of content options you can choose from, but the most important is content about your area. Go to your Dashboard, click on Pages, and Add New. There you can set a whole page to give your potential guests all the information they need about your location.
Here's an example:
It will end up looking like this:
Some tips and tricks for creating content include:
Fun facts about your area.
Hidden treasure guide.
Tips and tricks for first-timers in the location.
Keep it original, unique, and personal!
Step 11: Add a footer.
We recommend you add a footer with an About Us Section.
This section helps tell a story about yourself and your property, helping your guests feel closer to you, the brand you're trying to build, and your property. It helps them understand who the person is managing the whole thing and can even convince them to book.
First, go to

Dashboard.

Then go to

Manage Widgets. 
Manage Live Preview.

Widgets – Footer Column One

Add Widgets

Name the

Title: About Us

Set up your image and description of yourself.
Here's how you do it:
Take the time to introduce yourself.
Show them you really care about this property and it's been "made with love"
Mention the history, if any, behind your property. Do you have any interesting stories about the place?
Are you part of any initiatives in your local area? If yes, mention these!
Step 12: Setup synchronization with Hosthub so you don't get double bookings
Ah, the dreaded double bookings! Double bookings are a host's worst nightmare. Once you have your property on multiple channels, you run the risk of getting bookings that overlap and may cost you a lot of money.
In general, canceled bookings not only make you look bad but you'll have to deal with host cancellation fees, lower ratings, bad reviews, and lost money.
There is, however, quite an easy way to prevent that. This is where Hosthub comes in. They have a Zero Double Booking Guarantee where they:
 talk to affected guests.
take care of extra costs up to $500
Talk to the channels and ensure your account isn't penalized.
Give you step by step instructions on how to deal with the negative consequences.
On top of that, they synchronize all of your reservations so you don't have to do them manually. The platform automates the whole process and will sync your entire calendar data.
All you need to do is;
Create a Hosthub account.
Add 2 or more properties to the account.
Hosthub will automatically start synchronizing your calendars & bookings.
Don't forget, that if you find difficulties in creating the website on your own, we can help! We can do it much faster and much better since we have done it successfully for many property owners. Visit our Website Builder page to find out more.
Step 13: Add your reviews to your website.
Most travelers check reviews before making a reservation. If you have a collection of real guest reviews from other channels like Airbnb, it's best you add them as testimonials.
Make sure they are updated regularly.
Make sure you have the latest reviews up there.
You can add Testimonials by going to your Dashboard, then Testimonials then Add New. Copy and paste your review from your other channels onto your website.
Tips and Tricks for Building Your New Direct Booking Property Website
Here are some top tips to keep in mind when building your own website.
Load Time
Make sure your pages load in as little time as possible. The slower your website takes to load, the more bookings you're going to lose as a result of people's patience. Test your website using Google's Page Test.
Choosing your target audience.
Before you begin with creating your property website, make sure you tweak your marketing plan and your website based on your target audience.
First, define exactly who your target audience is. These can include families, college students, business travelers, solo travelers, or large groups.
Your target audience depends on your type of property and the location of your property. For example, a rooftop condo in the middle of the city suits business travelers more than families, while a village cottage is more of a romantic retreat or a family holiday.
Choosing your photos.
Your photos are your most important marketing asset. Guests are 20% more likely to book your property if you have, both, high-quality photos and plenty of them. Your images should be:
Bright.
Clear.
Visually describe the experience and the feelings your guests will have once they're at your property.
Professionally-taken. Hire a professional instead of taking your own pictures.
Make sure you also arrange your photos so they have a logical sequence and order. Start the journey straight from the door through the house, and then explore each room separately.
Tips for writing the perfect catchy headline:
Make sure you mention the type of listing you have. (Is it a villa? A penthouse? A cottage? A home?)
Do you have a special amenity you can highlight? (A hot tub, a trampoline, a rooftop, a swimming people?). If yes, mention that.
Mention the type of traveler you're looking to target in your headline. "Cottage perfect for a couple"
Mention any major attractions that are nearby. "10 minutes away from Times Square"
Writing your description.
There is no secret recipe to writing the perfect description, you need to play on your strengths, and really wow your guests with just a couple of words. Sounds easier said than done. Some of our tips include:
Using top keywords for SEO purposes.
Have a quirky and fun tone to create as much of a personal connection as possible.
Start with a catchy sentence to help the guests keep reading.
Use bullet points and short sentences.
Allow the guests to envision their vacation through your description.
Add a Basic "Where To Go & What To Do" section.
Share your expertise with your guests and add some local recommendations for nearby amenities. These include:
Supermarkets.
Restaurants.
Shopping.
Nightlife.
Any nearby activities.
Metro stations.
Add a Hidden Treasures Guide
Add value to your property & your website by creating a Hidden Treasures Guide. Instead of just writing the "Top 10 Things to do In X", give your guests insider information about your area. These can include:
Off-the-beaten sights.
Independent restaurants, galleries, museums, and bars.
Places that are only frequented by locals.
Events that aren't well-known to tourists.
Cheap places away from the touristy areas.
This will make the guests feel confident when booking your property and will most likely follow your recommendations. It also works backward: if guests search what to do in your area, they can stumble upon your website and book your property from there.
Add Accurate Directions.
Your guests want to know exactly how far away the location is to top monuments. You can even add an interactive map to help your guests visually understand how far/near away from things you are.
Climbing Google's search results.
A lot of travelers flock directly to websites they're used to like Airbnb, but a significant amount will actually start on Google first. In most cases, they will type in property type + location in Google's search bar.
Now, how good would it be to have your website be ranked as one of the first results they see? Pretty good!
This is where SEO comes in:
Find the right keywords related to your area.
Optimize your images (smaller sizes, use file names, use descriptions that include those keywords)
Use the right page titles with a meta title, meta description, and URL.
Promote your links.
Start a vacation rental blog, use your keywords, and develop great content.
Some mistakes to avoid when you're creating your website;
Writing down a poor description.
Posting small/low-quality pictures.
Not adding location information.
Not posting an "About Us" section.
Creating a website with colors that don't match together.
Missing a call to action on your website.
Not mentioning that you offer secure e-payments.
Not optimizing the website to mobile phones.
Some final words
As we've seen, creating a website nowadays has never been easier. It's essential for you as a property owner to have your own property website and to advertise it everywhere. It's the perfect way for you to grow your brand, to showcase everything your property has to offer and to generate consistent new leads, and maximize revenue. The platforms we've shared here in this guide help you save money, cut your time, and make website building a breeze.
If despite our guide above, you still want a professional to build your direct booking website, we can help you there too. With Hosthub's Website Builder, you can get a professional website with everything you need!
Visit our Website Builder page to find out more.