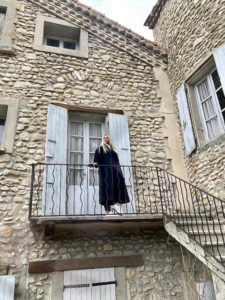 This week let's meet Cassandra😊
Cassandra is a superhost from the Netherlands who is currently living in the South of France. She started hosting in 2017 and she manages 5 properties. Her "Château La Tour Provence Resort" provides to its guests everything they need, from walks in a private park to relaxing massages. Service, design, and simplicity are the core of the "Château La Tour Provence Resort", and guests are guaranteed to have an extraordinary experience there.
Let's hear her story! 🔊
So Cassandra, tell us, how long have you been hosting for? How and why did you start? How many properties do you manage?
In 2017 I started hosting, currently, I manage 5 properties. I started with one Villa with two double apartments. Last year we moved to a Castle in the city center of Nyons. With 1acre of private park, heated pool, SPA, sauna, jacuzzi, and relaxing massages. The Domain has 15 sleeping rooms and 15 bathrooms but we only rent 5 of those rooms to the public, the rest of the property is for private use. I started to host because I love the interaction with different people. And I also love being able to welcome them and give them a tour of the Castle and to help them discover Provence and the beautiful city of Nyons. In Provence we have 300 days of full sun, this is why we have the nickname "Petit Nice" due to our climate.
Are you an owner or a manager? Is this a part-time or full-time occupation for you?
I am the owner of this property and this has become my full-time job.
What is the best thing about hosting, and what are the biggest problems you face?
The best thing about hosting is to see a change of behavior when my guests arrive and when they leave the Domain. They come very stressed. Day by day they manage to relax and to appreciate the tranquility that the Provence has to offer. My biggest problem is to refuse new guests. Every summer I have to disappoint many people since we are fully booked.
What is one thing you wish you knew when you started hosting?
To relax, and just enjoy the moment. A double booking is normal and is always a solution to it.
What is the most important advice/tip you would give someone interested in becoming a short-term rental host?
My advice would be to avoid double bookings by using the Hosthub services. You guys really saved my life by helping me avoid double bookings and ignore bad comments. You can never make everyone happy.
Besides Hosthub, are there any tools, devices, or software (eg. Remote keylocks, cameras, local guide apps, power meters, etc) you use? What is your experience with them?
I only use Hosthub's services. All the rest I manage myself, together with the Tourism Office.
Which channels do you list on? How much has your revenue increased since listing on multiple channels?
I am listed on Booking.com and Airbnb. The rest of the bookings are direct bookings.
Besides listing on multiple channels, what other things can a host do to increase his/her bookings and revenue?
Social media and word-of-mouth advertisements are the best way to get new customers.
You can find out more about Cassandra's properties here:
Direct Booking Website
Booking. com
Airbnb
Here are some photos to give you a better vision of  Cassandra's properties (click for larger versions) 🧐