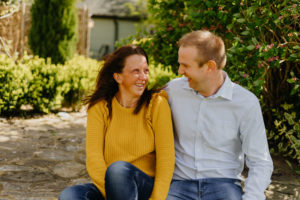 This week let's meet Emma😊
Emma and Chris own and run "Little England Retreats", which consists of 1 cottage, 1 Yurt, and 2 Shepherds huts. Their ultimate aim is to create a place of tranquility and calm, where their guests can really relax. Emma and Chris always go out of their way to make every single guest who stays with them feel special and welcome. They have been hosting since September 2020 and Emma manages everything, as hosting is a full-time occupation for her.
Let's hear her story! 🔊
So Emma, tell us, how long have you been hosting? How and why did you start? How many properties do you manage?
I have been hosting since Sept 2020. We needed a lifestyle change due to both my husband and I having corporate jobs which involved overseas travel but also a very young family. We were very reliant on childcare and by me taking on the running of the site rather than working in my corporate role it meant there was always time for the children. We have one site which consists of 1 cottage, 1 Yurt and 2 Shepherds huts.
Are you an owner or a manager? Is this a part-time or full-time occupation for you?
I am the owner and the manager! And the cleaner! It's a full time occupation.
What is the best thing about hosting, and what are the biggest problems you face?
The best thing about hosting is seeing guests check out with a smile on their face after having a great stay. Our guests often arrive after very long drives. When they arrive they are tired and hopeful that their accommodation is what they want. Our reviews are constantly good and its an extremely satisfying result.
I'd say the hardest thing is guests actually reading the accommodation description. We do have shared bathroom facilities for our yurt and shepherds huts and sometimes guest do not always read this. Due to this, I always send a confirmation text message to our guests to confirm.
What is one thing you wish you knew when you started hosting?
That you will always get one guest that you can never please. Also, always buy a spare toilet seat!!!
What is the most important advice/tip you would give someone interested in becoming a short-term rental host?
Have patience, be prepared for ALL eventualities and remember that the guests are spending their hard earned money to stay with you. Special little touches really make a guest's stay. Being available for guests goes a long way.
Besides Hosthub, are there any tools, devices, or software (eg. Remote keylocks, cameras, local guide apps, power meters, etc) you use? What is your experience with them?
Key lockboxes are really handy – esp if a guest manages to lock themselves out. Great wifi is a must – invest in mesh networks etc. Cameras are useful and always give you that bit of a safety net if there is a query. Also hive heating/lighting is great – it means you can give guests control but also take over if needs be.
Which channels do you list on? How much has your revenue increased since listing on multiple channels?
Multiple channels. We have a cottage plus huts onsite. We get different type of guest between the cottage and in the huts therefore different channels attract different styles of guests.
Besides listing on multiple channels, what other things can a host do to increase his/her bookings and revenue?
Talk to guests, show what you can do and have personal business cards. We often have guests come and stop one night in the huts then follow up with a whole site booking. Also, link up with local wedding sites/activity centres to be recommended accommodation. Another thing we have done is to be a retreat for yoga etc – link up with local teachers.
You can find out more about Emma's properties here:
Direct Booking Website
Airbnb
Booking.com
Here are some photos to give you a better vision of Emma's properties (click for larger versions) 🧐