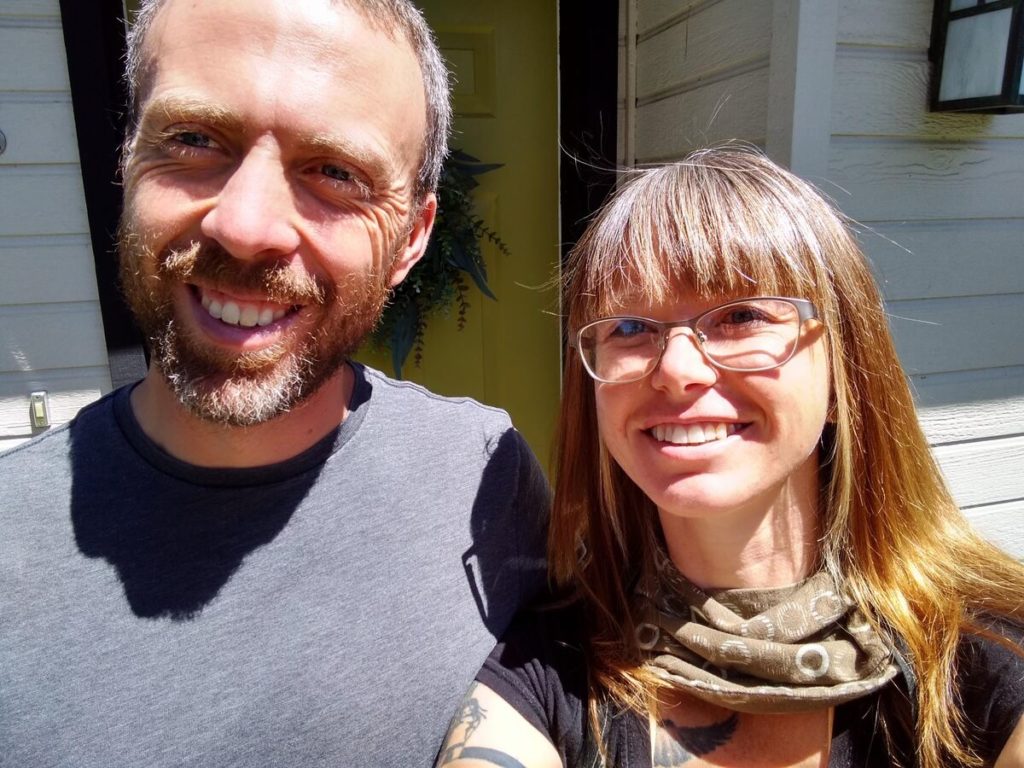 This week let's meet Kathryn & Sean😊
Kathryn and Sean started hosting in 2014 while they were both grad students. They started renting on Airbnb a spare room in their house to cut expenses and now they rent 3 properties. Kathryn and Sean are superhosts and have been hosting for almost a decade!
Let's hear their story! 🔊
So Kathryn, tell us, how long have you been hosting? How and why did you start? How many properties do you manage?
I've been a host since 2014 almost a decade! My husband Sean and I were both in grad school and trying to cut expenses so we decided to rent out a room in our house in Eugene Oregon on Airbnb. We met a ton of interesting people and mostly paid our mortgage which was a huge help at the time. From then on, we were hooked. When we moved from Eugene to SW Oregon in 2017 Sean and I built a tiny house to rent on Airbnb next to our house. It did amazingly well and was such a great learning experience. From there we bought a small house a few miles away and have been using it as a very successful short-term rental since the fall of 2020. This past spring we started renovating the detached garage at this house into another rental unit and we partnered with my dad and sister to buy a lakehouse in northern Minnesota too! When the garage conversion is complete we'll be the proud managers of four units.
Are you an owner or a manager? Is this a part-time or full-time occupation for you?
We own and manage all of our properties. We hire out the cleaning at our cottage and lakehouse and usually do our own cleaning at the tiny house since it's right next door. Sean and I both work almost full-time at the ecological nonprofit we started together called The Understory Initiative. We love our day jobs but our short-term rental income makes being self-employed in the nonprofit sector possible for us.
What is the best thing about hosting, and what are the biggest problems you face?
The best thing about hosting is how it has enabled my husband and me to build the life we want and have the flexibility to pursue our dreams. I also really enjoy working with our guests. 99.9% of them are super great. The biggest problem we are facing right now is lower-than-average bookings across all our properties and platforms. In the US we are seeing high gas prices, lots of inflation, and more competition in the short-term rental market. Add a few winter storms to that and we're a bit nervous about the next few months. We typically operate at 90% or higher occupancy so having 60-70% for a few months isn't the end of the world.
What is one thing you wish you knew when you started hosting?
I just wish we would have known how straightforward and reliable hosting is. When we started almost no one had heard of Airbnb or other platforms like it and it felt a lot more strange and risky. Had we known how things would turn out we certainly would have purchased more properties when real estate was less expensive a decade ago.
What is the most important advice/tip you would give someone interested in becoming a short-term rental host?
Make your rental into a place you'd personally be happy to rent. Also, don't cut corners and think about all the little details that might make a difference to your guests.
Besides Hosthub, are there any tools, devices, or software (eg. Remote keylocks, cameras, local guide apps, power meters, etc) you use? What is your experience with them?
Since our lakehouse is thousands of miles away from where we live we decided to install exterior cameras, smart locks on all doors, and a smart thermostat. This gives us some peace of mind and the best part is that I can log into the cameras and watch the sunset over the lake from home!
Which channels do you list on? How much has your revenue increased since listing on multiple channels?
I'm a long-time host on Airbnb and never really needed to branch out much since my occupancy was already over 90% year-round. Once I scaled up to 3 properties with a fourth on the way I decided to cross-post on VRBO. Airbnb still remains our best income stream but the VRBO bookings have filled in a number of gaps every month. I would say our revenue has increased by 10-20% but the time I spend managing each listing has gone down a bit too.
Besides listing on multiple channels, what other things can a host do to increase his/her bookings and revenue?
Offer a good value and take the time to think through the details. Ask yourself if you and your friends would be happy to rent your space and if not, make the needed improvements. We get so many compliments from guests about our "thoughtful touches."
You can find out more about Kathryn & Sean's properties here:
Airbnb
Vrbo
Here are some photos to give you a better vision of  Kathryn & Sean's properties (click for larger versions) 🧐