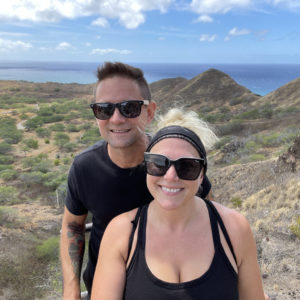 This week let's meet Katie and Justin 😊
Katie and Justin Busa are from Roseville, California, just two hours north of the San Francisco Bay Area where they grew up. Katie and Justin own and manage a single condo in Lahaina, on the island of Maui, HI. They've been visiting Hawaii together with their family for almost 20 years and they love sharing their experience of the islands with their guests. They are new to hosting but so far they love it!
Let's hear their story! 🔊
So Katie and Justin, tell us, how long have you been hosting? How and why did you start? How many properties do you manage?
We've been hosting since the beginning of 2021, so this is a new experience for us but so far we love it! We currently manage a single condo in Lahaina on the island of Maui, HI and are planning to expand to multiple properties in the future. We've been visiting the islands together for almost 20 years and have always dreamed of owning but thought it was out of reach for us. When we received some advice from a close friend last year, we decided to have a closer look at what it would take, and now here we are. This time last year we had no idea we'd be on this journey!
Are you an owner or a manager? Is this a part-time or full-time occupation for you?
We own and manage the property ourselves interfacing with cleaners and guests when necessary, so it's a part-time operation.
What is the best thing about hosting, and what are the biggest problems you face?
One of the best parts has been learning more about the local area. We already had experience with traveling to Maui but owning there has really opened us up to local amenities we weren't aware of before. We plan to continue growing our knowledge of the islands so we can pass that down to our guests. As for problems, we haven't faced too many yet but we have had a couple of small emergencies like a clogged kitchen sink or the internet not working.
What is one thing you wish you knew when you started hosting?
We're still gaining experience, so this might not apply to us yet. I do wish I knew Hosthub was the clear choice for us because that would have saved me a few days of research 🙂
What is the most important advice/tip you would give someone interested in becoming a short-term rental host?
It's not hard but it's not entirely easy either. There's a time commitment, especially when you're getting up and running. Figuring out your processes and automating as much as you can from the start will (hopefully, we're still learning) save you time in the future. We set up Hosthub's automated messaging feature as soon as it came out. One less thing to worry about!
Besides Hosthub, are there any tools, devices, or software (eg. Remote keylocks, cameras, local guide apps, power meters, etc) you use? What is your experience with them?
We don't use any other software for management but being small business owners, we did set this up as a business. It has its own email address and account with Google Workspace which allows us to keep everything organized and separate from our other dealings.
Which channels do you list on? How much has your revenue increased since listing on multiple channels?
We list on Airbnb, VRBO, Booking, Tripadvisor, and our own website. Listing on multiple channels definitely helps with revenue as the bulk of bookings come from Airbnb while the other channels help fill in the gaps.
Besides listing on multiple channels, what other things can a host do to increase his/her bookings and revenue?
We're currently writing local guide articles on our website with recommendations for our guests such as activities, tours, or areas to visit. Websites such as Viator or GetYourGuide make it easy for us to receive a commission if one our of guests books a recommended activity. Essentially, we're creating a niche travel blog specific to the area our condo is located. There is potential for increased exposure in the future from non-guests finding our website via a guide article found on a search engine.
You can find out more about Katie and Justin's property here:
Direct Booking Website
Airbnb
Booking.com
Vrbo
Here are some photos to give you a better vision of Katie and Justin's property (click for larger versions) 🧐