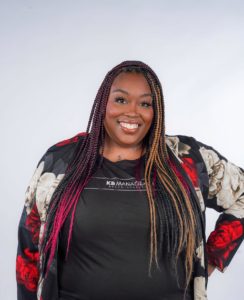 This week let's meet Kelvena 😊
Kelvena Benson is from Milwaukee, WI but for the past 4,5 years, she resides in Austin, TX. She currently rents one property in Milwaukee, since September 2021,  and she is already working on her second short-term rental property, which will be located in Austin. Kelvena may be a new host but she is not new in the short-term rental industry, as she has previously helped manage vacation rentals.
Let's hear her story! 🔊
So Kelvena, tell us, how long have you been hosting for? How and why did you start? How many properties do you manage?
I've been officially hosting since September 2021, but I've previously helped manage vacation rentals as well. I started this short-term rental business as an extension to my current business, KB Management Brand Operations. We exist for small business owners looking to fill the digital gap in brand operations and strategies with ongoing brand management. Due to the amount of travel back and forth for business, I thought why not secure housing for my stays and travel clients as well. How I got started was hiring a mentor, JCD Enterprises is a very successful short-term rental business who started an academy to teach others how to get started in this industry. My business partner and I currently manage one property in Milwaukee and working on our next unit which will be located in Austin.
Are you an owner or a manager? Is this a part-time or full-time occupation for you?
I am an owner and manager, I split foot on the groundwork with my partner who resides in Milwaukee so it's easy to manage. This is a part-time business for me, looking to expand that in 2022.
What is the best thing about hosting, and what are the biggest problems you face?
The best thing about hosting is solving problems for the guest who stays with us. When connecting with guests there are so many different reasons for their stays that they share with us. It makes me happy to help make them happy during their stay. The biggest problem I've faced so far is the slow winter season, we've had to get creative with finding ways to secure bookings due to the cold weather in our property's location.
What is one thing you wish you knew when you started hosting?
I wish I knew that you simply can't please everyone and that's ok. No matter how much you try to accommodate and make your guests comfortable there will always be someone who doesn't appreciate the efforts or isn't pleased even with the uncontrollable.
What is the most important advice/tip you would give someone interested in becoming a short-term rental host?
The advice I would give is to remain professional at all times, do your homework, find ways to go the extra mile when you have the opportunity. There will be slow times, get creative. Cleanliness and sanitary is a top priority, people want to feel safe and it's your job to help them do so.
Besides Hosthub, are there any tools, devices, or software (eg. Remote keylocks, cameras, local guide apps, power meters, etc) you use? What is your experience with them?
We have a fully automated check-in process. We use smart locks and provide entry codes for guests upon arrival. Outside cameras are installed for safety reasons for both guests and hosts.
Which channels do you list on? How much has your revenue increased since listing on multiple channels?
I list on Airbnb, Vrbo, Expedia, and my own personal website. Listing on multiple platforms increases awareness which equates to more bookings! My revenue increased when adding the second listing platform and has almost doubled after adding to my personal website.
Besides listing on multiple channels, what other things can a host do to increase his/her bookings and revenue?
Open the space for different types of rentals, with the recent pandemic people are always looking for space to host small gatherings, fireside chats, or even just a lady's night. Get creative with themes to attract new audiences, be intentional about where and how you list.
You can find out more about Kelvena's property here:
Direct Booking Website
Airbnb
Expedia
Vrbo
Here are some photos to give you a better vision of  Kelvena's property (click for larger versions) 🧐