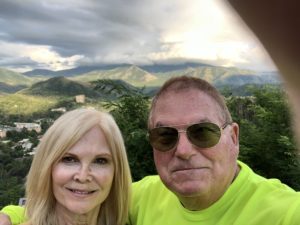 This week let's meet Paula 😊
Paula was born in Alabama and she is married to Greg, who is a retired airline pilot, originally from New York. They reside in Sevierville, Tennessee, and she manages the cabins. They started with one cabin and now they have five. Four with mountain views and one on the riverfront. Their latest addition is Coast Awhile, a beautiful condo right on the Gulf front. Just steps from one of the ten most beautiful beaches in the world, located in Panama City Beach Florida. Paula is happy to share these little pieces of heaven, her beautiful properties with guests and she hopes they will stay and experience the good life at their cabins or at their fabulous gulf front condo and become one of their many return guests.
Let's hear their story! 🔊
So Paula, tell us, how long have you been hosting for? How and why did you start? How many properties do you manage?
My husband Greg and I have been hosting for about 5 years. We were living in Conroe TX outside of Houston when we visited Gatlinburg. We fell in love with the beauty of the area and purchased our first cabin to have a place to come and stay as a second home. We loved the area so much we decided to make our home here. We moved and built our personal homes. We then purchased a second cabin. A couple of years later we purchased our third and fourth cabin. A year later we purchased a cabin on the Little Pigeon River. Our last purchase in January of 2021 was a condo on the Gulf Front in Panama City Beach Florida
Are you an owner or a manager? Is this a part-time or full-time occupation for you?
We own and manage 6 properties. We specialize in properties with mountain or water views. My husband is a retired airline pilot and I am a Realtor. We consider this full-time; however, this offers a lot of flexibility with our time.
What is the best thing about hosting, and what are the biggest problems you face?
The best thing about hosting is sharing our little slices of paradise with guests that appreciate the beautiful views and the extra effort we put into making it a five-star stay. We also love the flexibility of being able to manage it from home or any place we may go.
What is one thing you wish you knew when you started hosting?
The biggest problem we face is having good reliable cleaners. Being on time and attention to detail is a must for any cleaners. They play a big part in our reviews for cleanliness.
What is the most important advice/tip you would give someone interested in becoming a short-term rental host?
The main thing I wish we had known before we started hosting is how much effort it takes to maintain a five-star rating for all of our properties. You need good cleaners to keep a five-star rating and contractors that can get to repairs quickly. Maintaining the presentation of the property and pleasing decor is a continual process to stand out from your competitors.
The best advice I would give to a short-term rental host new to the business is to keep the properties small. 550-850 sq ft one bedroom.; two-bedroom maximum. This costs less to purchase, lower utilities, and less maintenance. We rent mainly to couples. There is less wear and tear, less cleaning and laundry, and as profitable as some of the larger properties
Besides Hosthub, are there any tools, devices, or software (eg. Remote keylocks, cameras, local guide apps, power meters, etc) you use? What is your experience with them?
Hosthub has helped us with eliminating double bookings. Double bookings are problematic without their service. My experience has been with different channels that don't sync in real-time, you can get a double booking through no fault of your own. An example is getting a Vrbo booking and ten minutes later you get an Airbnb booking but it didn't sync. Now you have a double booking and cancellation. This can greatly affect your Superhost or Premier Host status.
We use a remote lock on one of our properties and will eventually have them on all six. It's easy to enter and change codes remotely. The ring doorbell works great with letting you know who enters the property and how many guests there are or if someone brings a pet.
Which channels do you list on? How much has your revenue increased since listing on multiple channels?
We currently list on three channels; VRBO, Airbnb, and Flip Key. We will add more as we see the need. It does increase bookings by having multiple channels.
To increase bookings it makes a difference to be a host that answers inquiries quickly and personalizes the conversation based on their needs to build trust. We also add a brochure in our properties that advertises all six.
Besides listing on multiple channels, what other things can a host do to increase his/her bookings and revenue?
We wish we had started a business in vacation property rentals a long time ago. It is fun, has flexibility, and gives our guests a home away from home to enjoy the beautiful views we offer.
You can find out more about Paula's properties here:
Here are some photos to give you a better vision of  Paula's properties (click for larger versions) 🧐