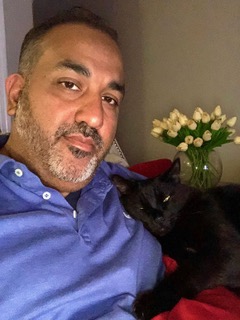 This week let's meet Shahid 😊
Shahid lives and works in New York City but he is originally from Asia. He and his wife own and rent short-term a themed property in Florida. Shahid is a superhost and he really enjoys hosting.
Let's hear his story! 🔊
So Shahid, tell us, how long have you been hosting? How and why did you start? How many properties do you manage?
We initially purchased the home as a means for my wife to be able to deal in private with a serious health issue she was going through. Once she went into remission, we wanted to offer our home to others and wanted it to be a sanctuary for them, as it was for us. This is the only property we manage.
Are you an owner or a manager? Is this a part-time or full-time occupation for you?
We are the owners. This is a part-time endeavor that we enjoy very much!
What is the best thing about hosting, and what are the biggest problems you face?
The best thing about hosting is having guests appreciate what we have done to our home to make their vacation that much more magical. There have been some downsides to offering the home to Short Term Renters. Of them, is having the house and its items damaged. It has happened a few times, and each time it was an emotional undertaking to accept what had happened. Luckily, insurance companies did step in and offset the damage. There were some things that were not replaceable and one of a kind, which is unfortunate because it meant that other guests couldn't enjoy those items we found during our travels around the world.
What is one thing you wish you knew when you started hosting?
I wish I was aware of the things I know now a lot sooner. If done right, your home can be quite profitable. You just need to be fair to yourself and the guest. That middle ground will always find you a nice return and offset your carrying costs.
What is the most important advice/tip you would give someone interested in becoming a short-term rental host?
Study your competition, understand your market, and what the people want and expect. If you exceed those requirements, you will succeed. Never stop investing into your property. Every time we are down there, we always put money back into the house. Over time, all the upgrades add up, and you have one up on the competition. Most of all, enjoy your short-term rental, stay there yourself, and experience what your guests experience. In this way, you will grow an attachment to your home, and won't see the reinvestment into it as a chore or business decision. Guests will see the pride you take in your home. Guest will rebook and come back, and before you know it, it becomes a family tradition to stay at your place every year!
Besides Hosthub, are there any tools, devices, or software (eg. Remote keylocks, cameras, local guide apps, power meters, etc) you use? What is your experience with them?
We utilize a Ring Doorbell and a camera in the rear of the property facing away from the home and onto the rear street. We also have remote locks, which we are not happy about as they rely on a signal conveyed by our adt system, and because the house is so large, the signal is weak. Therefore, the temporary codes we issue to guests don't always translate to all the keylocks, rather, only the front door. So we end up sharing our code with them for access to the Mickey Mouse Suite and GameRoom/Theater. We plan on upgrading to locks that rely on our wifi when we go down there in August.
Which channels do you list on? How much has your revenue increased since listing on multiple channels?
We list on Airbnb, Vrbo, and StayOne. Since adding Vrbo, our revenue has increased by 30%. StayOne has not yielded any stays.
Besides listing on multiple channels, what other things can a host do to increase his/her bookings and revenue?
Hosts can join Facebook groups specific to short-term rentals. They can also create their own websites and book guests directly-be advised this is risky if you don't have the right insurance. Other hosts join short-term rental sites for traveling nurses, construction workers, corporate leasing, and the like. Always review your local HOA regulations to ensure you're not violating them.
You can find out more about Shahid's property here:
Airbnb
Vrbo
Here are some photos to give you a better vision of Shahid's property (click for larger versions) 🧐