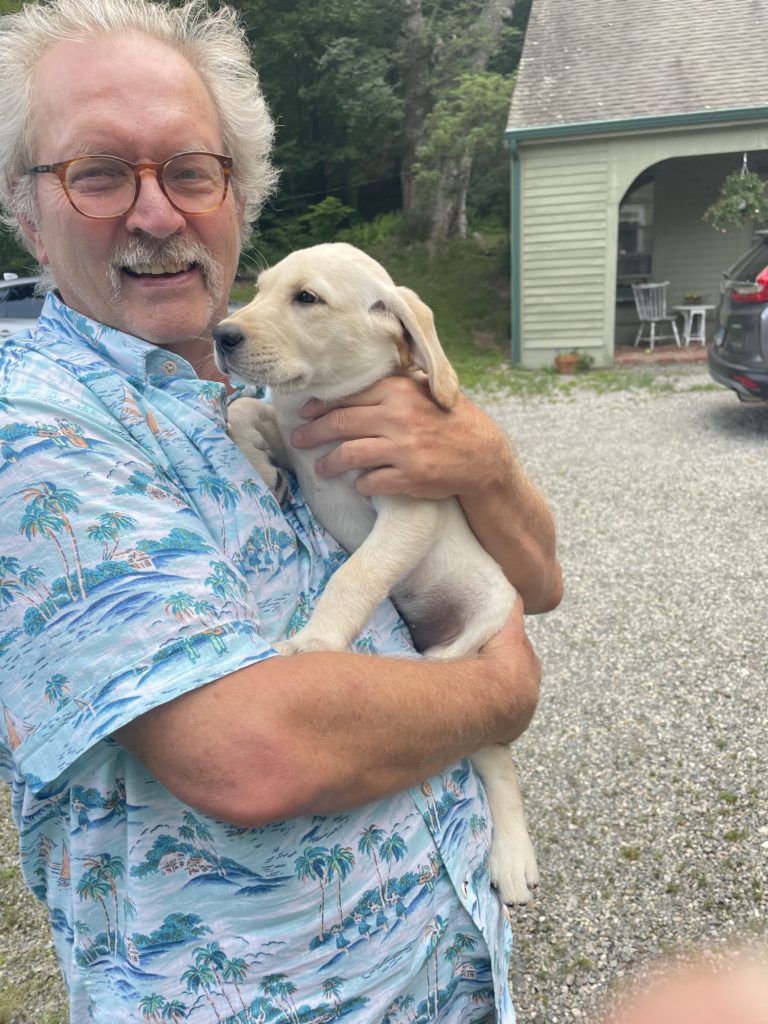 This week let's meet Skip 😊
Skip has been renting his 1700s historic home in Lisbon, Connecticut for over a year and hosting is a part-time occupation for him. He really enjoys his short-term rental business and has also learned a lot from his journey so far. Skip shares everything about his experience in this interview, so stick around!
Let's hear his story! 🔊
So Skip, tell us, how long have you been hosting? How and why did you start? How many properties do you manage?
I have been a host for just over a year when our property went live for bookings on May 5, 2021. We purchased the property in 2017 because we were looking for a 1700s historic home that had a space that could be used to teach music. For 50 years, there was an antique business located in our current rental unit. My wife and I started the business because I had reached retirement age and she would be in two years. Our plan was to replace my wife's income by the time she retired and at the least pay our mortgage. I manage one property.
Are you an owner or a manager? Is this a part-time or full-time occupation for you?
I am an owner with my wife. This is one of two part-time occupations; my other is operating a music teaching business.
What is the best thing about hosting, and what are the biggest problems you face?
The best thing is owning the asset of a working business; we hope it can be kept in the family or sold to benefit our children and grand-children. Other great things are monthly income, meeting wonderful guests who return often, being able to use our rental as a donation to support local business such as zoos and family fundraisers for those in need, and we really like people especially if they like dogs.
We have identified several big problems in operating a rental unit and by trial and error developed solutions that work for us. First problem – double booking days on two channels. Solution – we use Hosthub. Second problem- cleaning and cleaning done to our standards. Solution- we developed written guidelines with pictures and videos of how every room is cleaned. We provide all the equipment and cleaning products rather than what a housecleaner might bring in (we are constantly learning and changing as needed). In addition, we do almost all of the off season cleaning ourselves within reason – know your business unlike undercover boss. We hire and train family teens who need summer jobs to pay for gas; they are not going to leave something undone or cut corners. Third problem – Guest cancellation or booking problems. Solution – We have reasonable cancellation policies on our channels; the kind we would like to have when we travel. And we will work with guests who need to alter their booking due to changes in their situation. As an example, we have someone staying with us this week who was originally booked in 2021 but because of a family emergency had to cancel their trip at the last minute. Solution – we honored the payment they made and allowed them to stay now. Turns out they have family nearby, and booked their next trip with us. And now they are going to be regulars.
What is one thing you wish you knew when you started hosting?
Don't make dumb mistakes! An example – We got through zoning on a Tuesday and that night I went live with our site on a channel so I could see how cool it looked- when I woke up the next morning we were booked for the weekend! We didn't even have sheets and pillows yet… Plus a hundred other things. I wish I had started book keeping on day one. I wish I really knew how to clean the place and especially how to make a bed (don't ask) I wish I knew that guests might do crazy things like hide about 25 nip booze bottle empties in the sofa. I wish I had always texted guests on the night they arrived to ask how everything was in the place and did they need anything? I wish I had been paying attention when my old job sent us all to a public speaking class. I wish I knew how much fun being a host could be!
What is the most important advice/tip you would give someone interested in becoming a short-term rental host?
Be yourself; guests really appreciate down to earth small talk from someone who is friendly and sincere. If your first thought is to hide behind your door when the guests arrive, try to think of them as your favorite person in the world driving in the driveway and just be yourself – it gets easier in time.
Besides Hosthub, are there any tools, devices, or software (eg. Remote keylocks, cameras, local guide apps, power meters, etc) you use? What is your experience with them?
The best thing was to trade a free weekend stay with a professional photographer to get the best pictures to post on the channels… by far the best. The next best thing we ever did was install the coded door lock. For the first 4 months, we were old school; leaving the keys under a rock… we found out dogs like to run away with shiny objects. Speaking of dogs, we changed our collar/buried wire fence so the dogs can be in either the front of the house OR the back – huge help – dogs out back whenever we have guests (unless they are dog people and want to meet them). We have an on line smoke detector that sends me alerts of smoke in a room (we have working fireplaces in the unit). We have exterior only cameras which text/email alerts when guests arrive – huge help. We created "Things to do within a half hour of us" and a list of our "favorites" – we put them on the kitchen table with a welcome note (super low tech). Start day one with a spreadsheet in Google with anything and everything to do with the business. I wrote and saved messages in google docs that I could copy and paste to guests when I get a new booking. I saved a copy of things to write in my reviews – like a boilerplate of ideas to pick and choose from – nobody gets the same review but it's a real time saver. You decide, but we did an LLC.
Which channels do you list on? How much has your revenue increased since listing on multiple channels?
I started on just Airbnb, mostly because I did no research at all. After about 3 months, I added Vrbo and within a month Hosthub. I have doubled my income by adding Vrbo! Right now the ratio is 5 to 1 booking from Vrbo to Airbnb.
Besides listing on multiple channels, what other things can a host do to increase his/her bookings and revenue?
Open separate bank accounts for the business and do not take any money out of the account if you can at all help it. I have been tempted over and over again and you will too. Revenue will not do you any good if you spend it on stuff like hobbies. I send out mailing to guests that have stayed with us in the past offering different kinds of discounts to encourage them to book with us again. Right now, I am offering a gas card. If you sign up for newsletters from successful hotels and short term rental businesses, you will get a mail drip campaign sent to you by them – I just steal the ideas to use myself. Join local Facebook groups and post on people's postings. I had a local bride book with us after she drove by our place. I put up our business card anywhere that I see a community bulletin board that has cards on it- I am usually the only one on there with a rental. I offer our place for short term housing for people who have had a fire – free and we are not booked. We belong to the local historical society and have made a lot of connections… our place being historical.
You can find out more about Skip's property here:
Airbnb
Vrbo
Here are some photos to give you a better vision of Skip's property (click for larger versions) 🧐