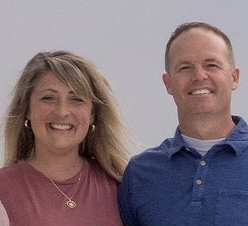 This week let's meet Tadlee & Carrie 😊
Tadlee & Carrie have lived in a number of different places in the United States. Most recently they moved from Florida to Utah. Providing a nice place to stay and good food to eat has been a love of theirs from the moment they owned their first home. So, when they moved to Utah they knew they wanted to create a space to do just that! Tadlee & Carrie renovated their home and build an apartment to host travelers. They have been hosting only for three months.
Let's hear their story! 🔊
So Tadlee & Carrie, tell us, how long have you been hosting? How and why did you start? How many properties do you manage?
We have always loved entertaining people. We owned a catering company in Florida. We wanted to continue to put smiles on peoples' faces here in Utah. So we decided to renovate our home and build an apartment to host travelers. It has been so much fun to do so. We have only been hosting our apartment for three months. We have enjoyed 57 of the 58 people we have hosted so far on Hosthub!
Are you an owner or a manager? Is this a part-time or full-time occupation for you?
We own our home, and the apartment within our home. This is a part-time occupation for us.
What is the best thing about hosting, and what are the biggest problems you face?
The best thing about hosting for us is surprising them with a beautiful apartment, fresh flowers, chocolates, and a beautiful bed. We like going above and beyond to create a luxurious experience for them. We also love hosting people from all around the world. We've already had people from Saudi Arabia, China, Thailand, and travelers from many states all around the US. The biggest problem we have faced is finding time to clean the apartment. It really is time consuming.
What is one thing you wish you knew when you started hosting?
One night we didn't have anyone staying and we dropped our price too low. That brought in someone who did not respect our apartment and melted candles all over the apartment and stained various places. It took a lot of energy and time to restore the apartment to its original condition. So, I learned to never lower the price too much because people who pay more respect the apartment more.
What is the most important advice/tip you would give someone interested in becoming a short-term rental host?
Creating the apartment space took a lot more money than we anticipated. So if you are renovating the space, plan on paying more for the renovation than you anticipate.
Besides Hosthub, are there any tools, devices, or software (eg. Remote keylocks, cameras, local guide apps, power meters, etc) you use? What is your experience with them?
We have used August lock, with a keypad. This is nice because we are able to send a temporary code to our guests, who then can self check-in. It took it a while to get it working, but it was definitely worth the hassle because it makes check-in so easy.
Which channels do you list on? How much has your revenue increased since listing on multiple channels?
We list on 4 channels. Majority of our guests come from AirBnB. But Booking.com is the next busiest. Followed by VRBO. We have never had one booking from Tripadvisor.
Our revenue increased about 30% after using Hosthub for multiple reasons. We instantly had more guests who could see our property and so we were able to raise our prices. Also, guests are now able to book directly through us because Hosthub provides a public calendar that you can share with others. So to those who respect our property we reach out to them and let them know that they can book directly through us next time which a) saves them money and b) makes us more money. So we have been really pleased with our Hosthub experience.
Besides listing on multiple channels, what other things can a host do to increase his/her bookings and revenue?
Use Hosthub's public booking calendar to invite guests to book directly through you so that you can earn more money and the guests can save money. Hosthub paid itself off with this feature alone.
You can find out more about 's properties here:
Airbnb
Booking.com
Vrbo
Tripadvisor
Here are some photos to give you a better vision of 's properties (click for larger versions) 🧐