How the Vacation Rental Industry Has Transformed in 2018
As the vacation rental industry was founded by vacation rental owners, we know all too well the frustrations of owning and listing your property (especially across channels). One of the best ways to combat and overcome these frustrations is to stay abreast of all the top trends and technologies that will not only make our lives easier as vacation rental homeowners… but also drive and increase those revenue streams.
That's why we've pulled together another annual market study on the vacation rental market. Last year, we used Pollfish to survey 1200+ vacation rental owners across the U.S., Europe, and the world. This 2017 study benchmarked key industry numbers and revealed valuable findings such as:
Owners listing across multiple channels reported 2-3x increases in revenue (4x, in some cases!),

85% of owners are interested in a tool to manage their various booking schedules,

An overall clear need for an easy, reliable, and affordable tool for calendar synchronization.
How the Vacation Rental Industry Has Transformed in 2018
This year, we take a look at if and how the vacation rental industry has transformed over the 2018 tourism year, and what this means for you and your listing(s). And just like our last study, we've collected and analyzed all of the most relevant and valuable information from the study that you, as a vacation rental owner, can use to educate yourself on the industry. Here's a preview of what the results revealed:
What

listing channels

are most popular (be it Airbnb, Booking.com, 9flats, Wimdu, or others),

How and why some vacation rental owners have not taken their listings fully online yet,

How vacation owners are

doubling and tripling their revenue

Which

channel manager technology and services

are most satisfactory
To help you get the most important top-level insights from the study, we've pulled together the four notable trends found from the market study. Now, let's dive in a little further.
Which of the following sites do you list your property (ies) on?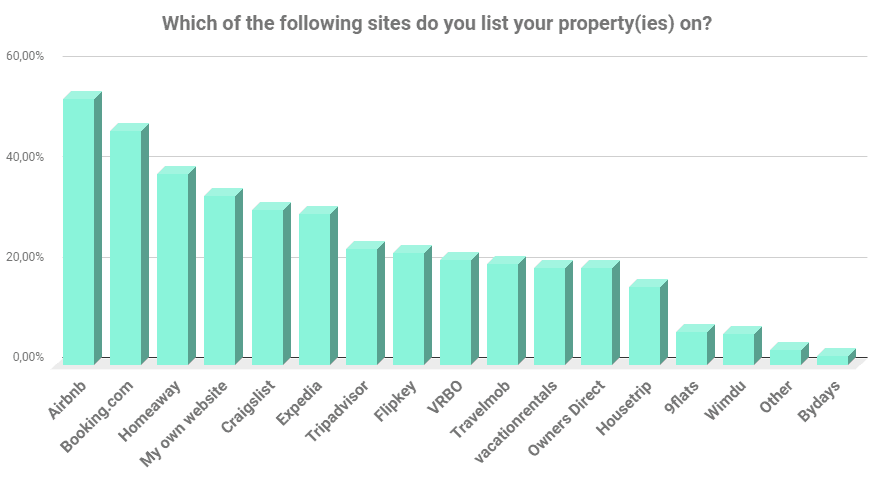 The Popular Vacation Rental Listing Channels Are Changing
Since you decided to go all along the way and rent your properties online the next natural question is: on which sites will you be listed on? This year's results revealed two key differences from last year. First, while Expedia came out on top last year, this year Airbnb and Booking.com lead the way. Second, we see some new names (that we didn't see in last year's market study) making their way into the vacation rental world, like Bydays and others.
How many properties do you list online?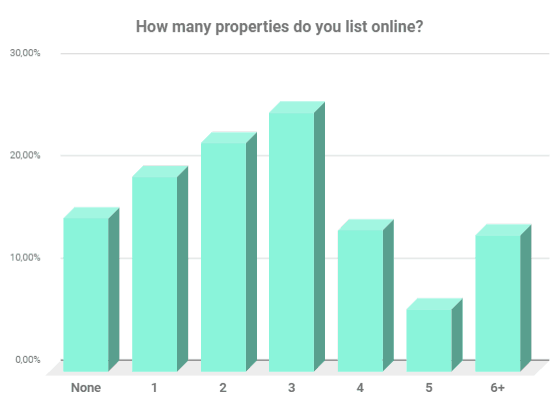 Property Listings Are Increasing
Last year, most vacation rental owners listed one or two properties online. This year, we see a trend upward as results reveal a slightly higher listing average. The response: on average, vacation rental owners are now listing three properties.
Since listing on multiple channels, how much has your booking revenue increased?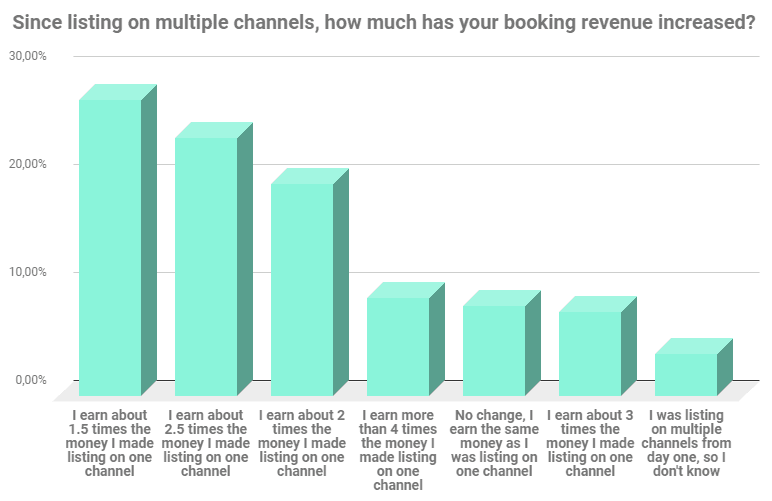 More Owners Are Seeing 4X Increase in Revenue from Multiple Bookings
Finally, and we'd argue the most interesting insight for vacation rental owners reading this study, is exactly how much more revenue vacation rental owners are driving by listing across multiple channels. While the lower multiples have remained relatively steady and even slightly decreased in some cases (32% of respondents reported seeing 1.5x revenue last year, while just under 30% this year see the same), this small decrease is made up by a notable new development. This year, almost 10% of vacation rental owners reported seeing 4x increase in revenue by listing across multiple channels, nearly doubling last year's 5.6% statistic.
What is actually that "magic something" you would change in your channel manager?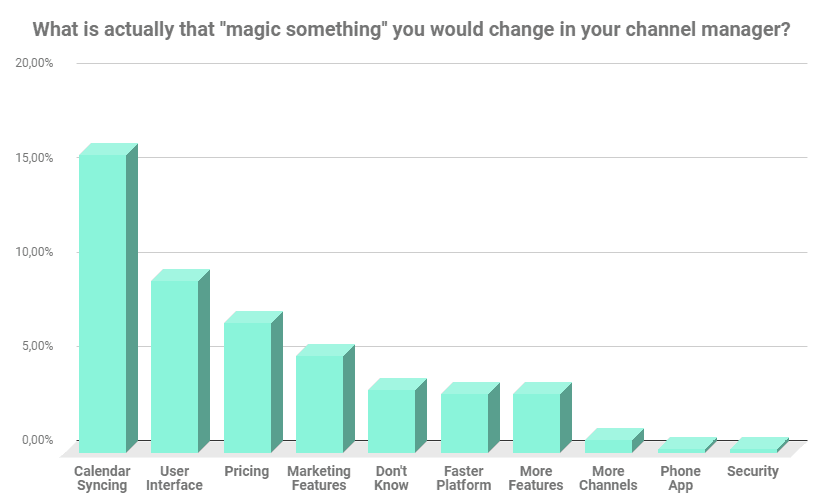 Calendar Syncing is a Must-Have Tool
We also asked respondents what feature, tool, or "magic something" was missing from the channel manager(s) they are currently using. In other words, what would make their vacation rental owner's life easier? Similar to last year (where 85% of vacation rental owners were interested in a calendar syncing tool for multiple channels) the overwhelming response is still: the ability for Calendar Syncing