Airbnb, the world's leading online marketplace for vacation rentals and accommodations, has recently unveiled a suite of new host features aimed at enhancing the hosting experience and empowering hosts to provide exceptional hospitality. With these innovative tools and resources, Airbnb is redefining the way hosts connect with guests, manage their listings, and cultivate memorable stays. In this blog post, we will explore the key highlights of Airbnb's summer release 2023 and how it benefits both hosts and travelers alike.
Streamlined pricing management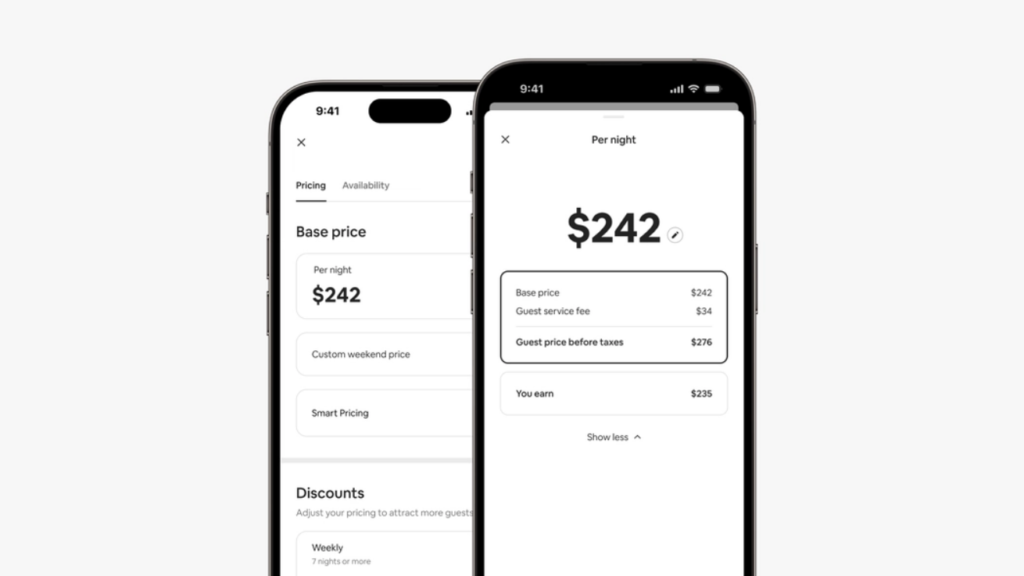 Airbnb has consolidated all pricing tools in one convenient location, allowing hosts to easily adjust prices, manage availability, and review discounts and promotions. Regardless of the chosen pricing tool, Airbnb ensures hosts have a clear understanding of what guests pay and what hosts earn.
Setting discounts has become simpler with the introduction of a slider that adjusts the average weekly or monthly price based on the desired discount amount.
Additionally, hosts can now access updated price breakdowns, offering insights into the guest's total price, including nightly rates, fees, discounts, taxes, and host earnings. To facilitate easy access to this information, hosts can select any open date or date range on the calendar to view the guest's total price by clicking on a button.
Furthermore, Airbnb has enhanced the process of setting weekly and monthly discounts by providing suggested percentages based on market demand, allowing hosts to instantly adjust their nightly price and earnings with a simple slider.
Pricing comparison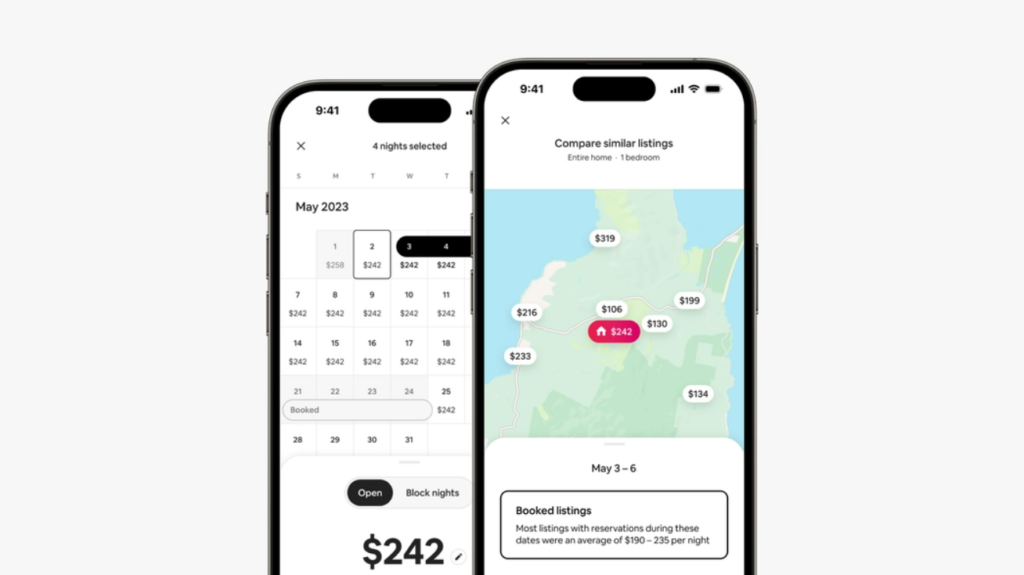 Airbnb has introduced an innovative pricing tool that allows hosts to compare their prices to the average rates of similar listings in their area. Host feedback played a significant role in the development of this feature, as hosts expressed the challenge of determining the right pricing strategy.
Airbnb created a user-friendly map that provides instant access to the average prices of both booked and unbooked listings similar to theirs. Hosts can utilize this tool when setting or updating their prices to ensure competitiveness in the market. The map displays average prices based on factors such as location, size, features, amenities, ratings, reviews, and browsing behavior of potential guests. By selecting open dates on the calendar and tapping on the nightly price, hosts can access the map by clicking on the "compare your price" button.
This new feature empowers hosts to make informed pricing decisions, offering a game-changing resource for hosts who strive to maintain competitive rates and maximize their earnings.
Simplified checkout process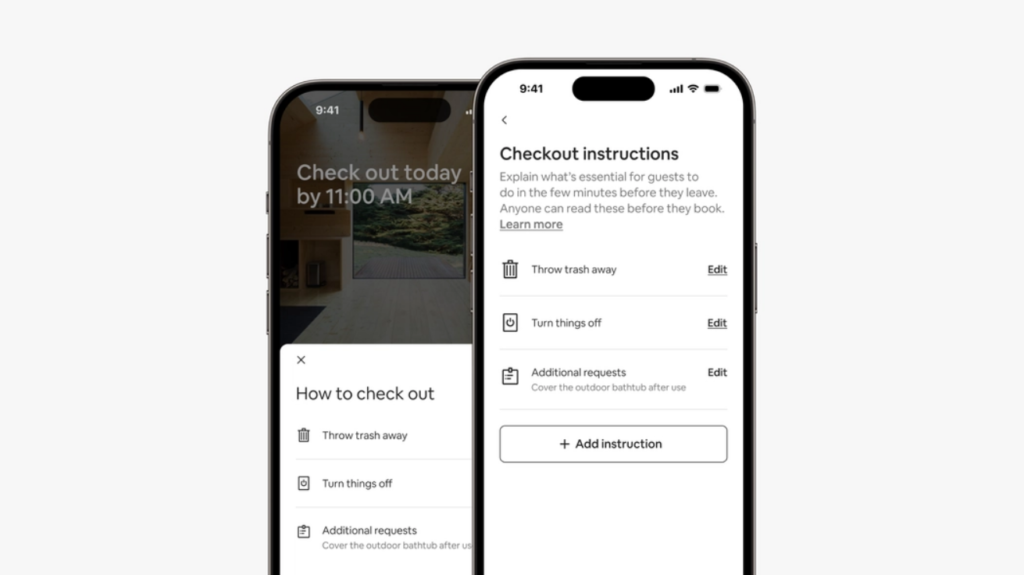 Streamlining the checkout process has always been a priority for Airbnb, and they have introduced new upgrades to ensure a smooth and hassle-free experience for both hosts and guests.
Airbnb has developed enhancements that make it easier than ever to provide clear checkout instructions. Hosts can now add checkout details directly on Airbnb, similar to entering house rules. Tasks such as gathering used towels, throwing away the trash, turning off appliances, locking up, and returning keys can be quickly added, along with any specific instructions or requests unique to the home. Guests can conveniently access these instructions on the Airbnb Trips tab, alongside other important details.
To further streamline the process, Airbnb automatically sends guests a reminder with checkout time and instructions, ensuring they are well-informed. Hosts have the flexibility to emphasize the importance of a timely checkout and can even set up scheduled messages to send reminders directly to guests' inboxes.
Additionally, guests can provide feedback on the checkout process, allowing hosts to continuously improve their hospitality. With these enhancements, Airbnb aims to create a seamless and efficient checkout experience for all users, enhancing guest satisfaction and simplifying checkout management for hosts.
Enhanced communication and guest connections
Airbnb recognizes the importance of effective communication in creating a positive hosting experience. To facilitate seamless interactions between hosts and guests, the platform has introduced new messaging features.
The first enhancement is read receipts, which allow hosts and guests to know if their messages have been read. A read indicator will appear below the last message once it has been read.
The second upgrade is the addition of visual cards to quick replies and scheduled messages. Hosts can now include a convenient card linking to their new checkout instructions. To make the process even more efficient, auto suggestions within the inbox will prompt hosts with relevant quick replies based on guest inquiries. For example, if a guest asks about checkout, the host will receive an auto suggestion to send a quick reply with a link to the checkout instructions. If the host hasn't created the instructions yet, they will receive an auto suggestion to do so and can then share them as a quick reply card. These enhancements aim to save time and improve communication, enabling hosts to provide a smoother and more efficient guest experience.
New Co-host permissions and simple payouts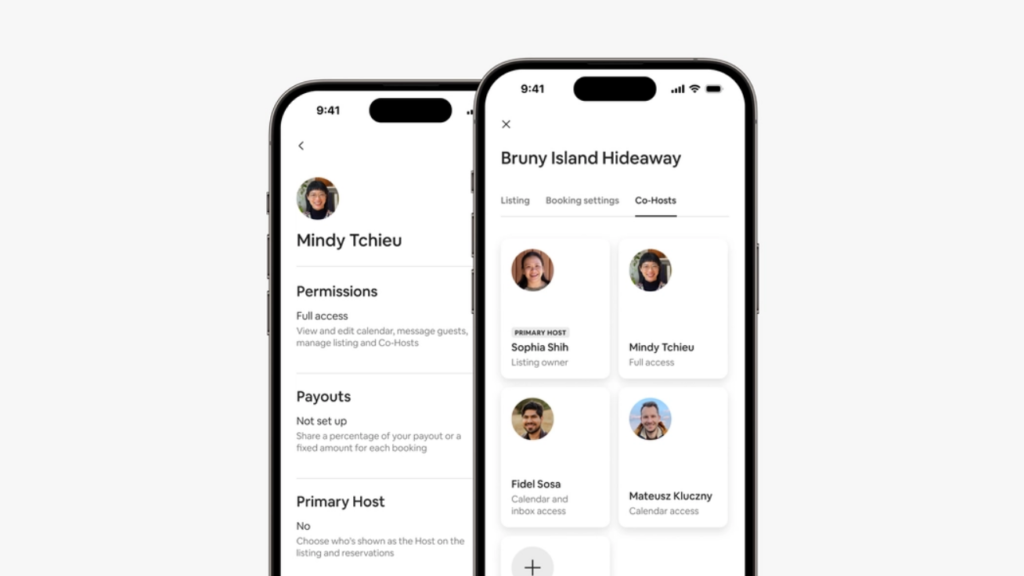 Co-hosting has become a popular practice among Airbnb hosts, as it offers a way to share responsibilities and enhance the hosting experience. Recognizing the importance of flexibility and transparency in co-hosting arrangements, Airbnb has introduced new co-hosting tools that provide hosts with greater control over their listings and streamline payout sharing.
With the new Co-Hosts tab, hosts can easily manage co-hosting arrangements, set permissions for each co-host, and invite new co-hosts directly to the platform. Hosts have the flexibility to define the level of access each co-host has, whether it's full access to manage the calendar, listings, messaging guests, and viewing payouts, or limited access to specific functions.
Additionally, hosts can now opt to share a percentage of their earnings or a fixed amount per booking with their co-hosts, ensuring a fair distribution of rewards. These upgrades empower hosts to build effective co-hosting relationships, streamline collaboration, and create a seamless hosting experience for guests.
Airbnb's summer release 2023 marks a significant milestone in the company's ongoing commitment to fostering exceptional hosting experiences. By equipping hosts with innovative tools and resources, Airbnb empowers them to provide outstanding hospitality, personalize guest stays, and build lasting connections. The new features create an ecosystem where hosts can thrive and guests can enjoy unforgettable stays. As Airbnb continues to evolve and innovate, hosts and travelers alike can look forward to a future filled with extraordinary experiences, exceptional service, and unmatched hospitality.