Hosthub closely monitors short-term rental markets and bookings coming in each month to provide data and insights to its customers – insights that help them better define their strategy and prepare for bookings each season.
In this context, we have created a special sections on our website where we publish statistics of bookings from all over the World, broken down by country and region (Hosthub research & data)
Analyzing the data for bookings that happened during January 2023, we discovered something strange: so far during the past 4 years, neighboring months had max 5-10% difference between them (excluding the period of lockdowns), while January 2023 shows a booking boom with 66% more bookings coming in than December 2022!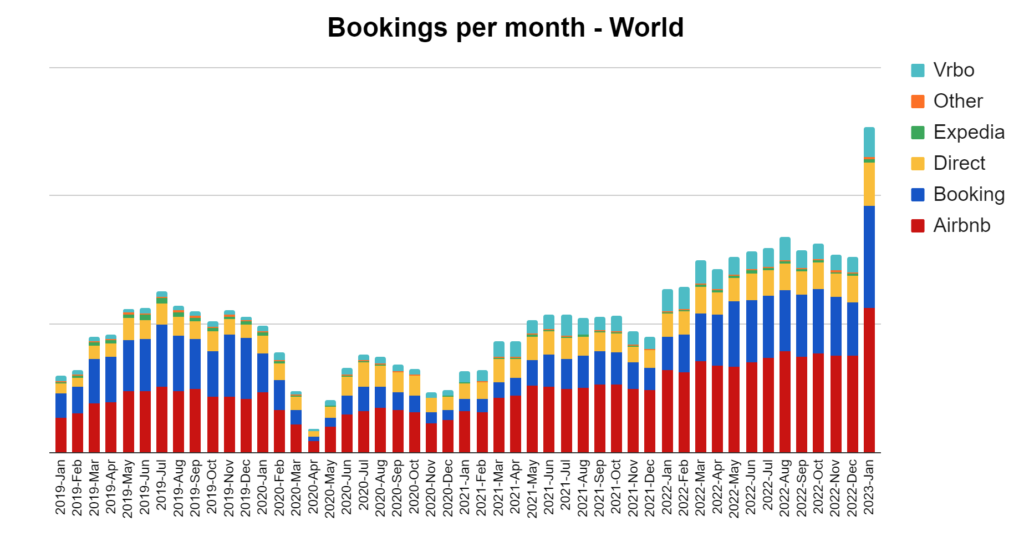 The above graph refers to bookings that came in during the month of each bar, for any future date, and refers to Hosthub customers' rentals (apartments, holiday homes, villas, bnbs, etc.) around the world (87 countries). As you can understand, seeing this spike, the next move was to look for the error – there's no way this spike is normal! Since the graph shows that the increase is uniform across all channels, the next move was to pull up the corresponding graph by continent/country to see if the "problem" is happening in specific regions. Let's have a look: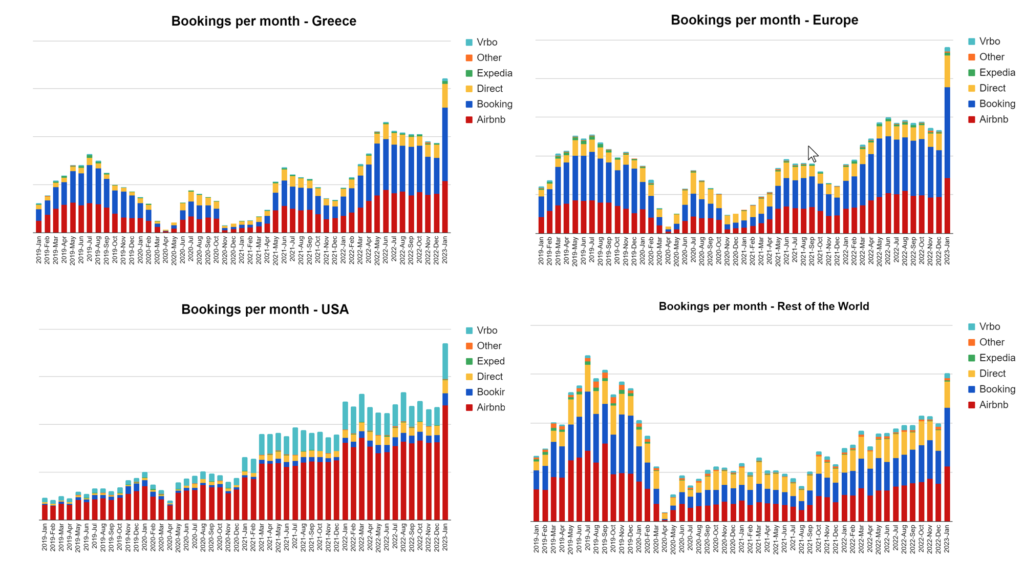 As you can see, the "explosion" is global, with no particular country or region being the "culprit". All countries and regions where our clients have accommodation, whether in Europe, the Americas or anywhere else in the world, show the same explosion of bookings in January.
Perplexed by this picture, we looked very closely at the data to see if there are any double entries or any other problem that could be leading to this picture. Nothing. Everything looked normal. We then sampled bookings from each region and channel to see if we could spot anything odd – it turned out that all the bookings were normal, and not fake or otherwise problematic.
Still, even after all that analysis, I was not convinced. I've been working with data and reports for many years, and have learned to recognize "errors" in the data relatively quickly – and this picture screams "bug" from a mile away.
My last hope was contacting property managers from Greece and abroad who are NOT Hosthub clients (yet😉). I spoke to several, and 8/10 are seeing a similar or smaller increase in new bookings in January. Maybe this is not wrong after all?
What does this mean for short term rentals and owners or managers?
At first glance, and assuming the above picture is correct, it looks like we are headed for a VERY strong 2023. By far probably the strongest year for short term rentals so far – even stronger than 2022! But the picture will be completed in the next 2 months when we will be able to compare Q1 2022 with Q1 2023 and get a more holistic picture, but the clues are certainly there.
What can we do?
For starters, prepare for a very strong year. Some thoughts:
Make sure your calendars are open for all of 2023 and have correct values on ALL the channels you have a presence on
If you had good occupancy last year, raise your prices
Boost your direct bookings (see how here and here)
If you have a flexible cancellation policy, change it to a strict one
Use technology to enable you to effectively manage traffic growth without compromising the quality of your service. Here are some ways in which Hosthub can help
Happy bookings and happy new year!