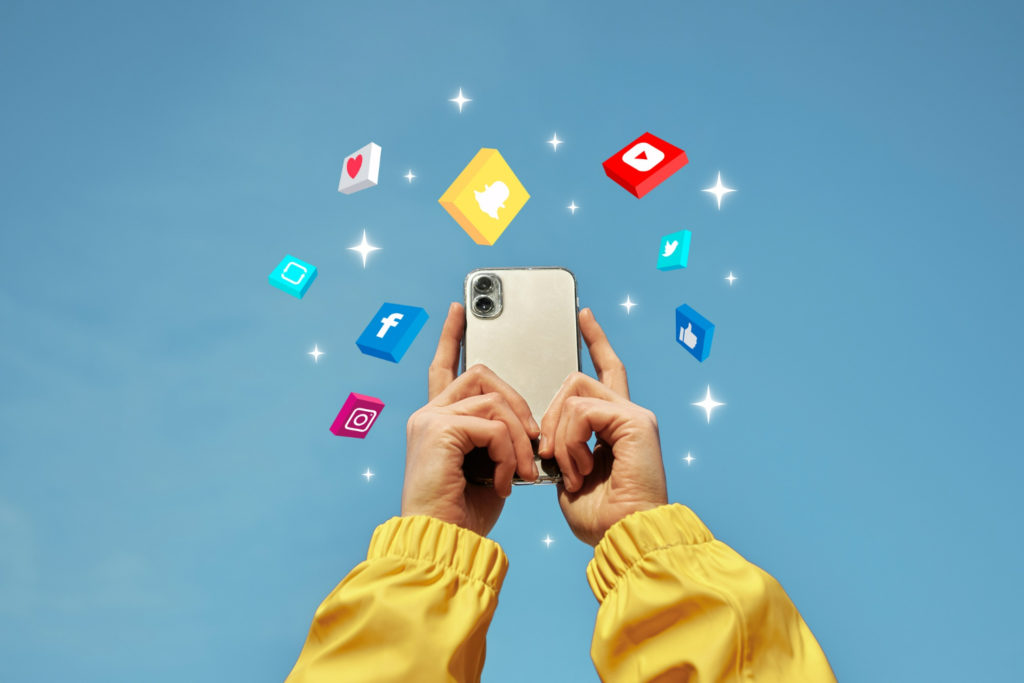 Over 4.7 billion (yes, we said billion) people are using social media across the world. Keeping up with friends, showing off your lifestyle, advertising products; it's all happening online these days! That is why it is crucial for business owners, including vacation rental property managers, to understand how social media works and how best to use it to your advantage. We're going to cover this topic thoroughly, so hold on tight and let's get learning!
Why use it
Social media has become the main way that people across generations interact. Photos, videos, and posts instantly pop up on user feeds worldwide. If someone interacts with your post, it shows up in their feed, opening your post up to a whole new audience! For short-term or vacation rental property owners, this can mean more organic traffic to your booking page simply from posting a photo of your space.
Having a social media presence is also about creating and building your brand. Put your personality as well as your properties on display for all to see. You can showcase your industry knowledge on your profiles, letting anyone who visits your page know that you know what you're talking about. Through social media, you can build deeper connections with your guests, local businesses, and other property managers in your area. Remember, this business is all about the people, so having solid connections is important to your success.
How to use it
Now that you understand why promoting your properties on social media is essential in the vacation rental industry, let's get into how you can use it to increase your bookings.
Have clear goals
With any social media strategy, you need to know what your goals are. Utilize measurable and attainable goals in order to make your plan as clear as possible. This way, you can track your campaign through the number of shares, views, or link clicks and make adjustments as needed.
Choose one or two main goals to focus on per campaign, like one specific property or one specific aspect of your property. For example, if you have a cabin property that gets decked out for the holidays, make a campaign around it for that timeframe to show it off.
Make it automatic
A big part of properly using social media for business is posting consistently. An easy way to handle this is by automating your posts. If you don't have the time, then look into getting software that can take that responsibility off your hands. Software like Sprout, HubSpot, and SocialPilot, Hootsuite can help set up your posts for all your platforms and post them at designated times.
Understand your target audience
Knowing your target audience is one of the most important factors in successful social media marketing.
Your targeted age range will tell you which platforms will work best, like Facebook for properties geared toward 30–65-year-old guests or Instagram for 18–29-year-olds. It's always smart to start with just one or two platforms in the beginning, as it can get overwhelming if your try to do too much too quickly. To hit every single age category, make sure that YouTube is in your collection of platforms.
Your target audience will also tell you what times you should be posting, based on typical job hours or region, as well as what kind of content will best catch their attention. For example: if your target guests are single, professional women in their 30s, then the best time to post might be between 12-2 pm during typical lunch hours or after 5 pm when the workday is done. These women will likely be looking for a de-stress, so utilize some beautiful photos and videos to show off your property.
Showcase the experience

While showing off your space is essential, you need to give visitors more than just the interior. You need to sell the experience. For example, include lifestyle shots of the table set with a meal, the view from the porch with a cup of coffee, etc. You should also show off exciting things nearby to do and see.
Use links
This should be obvious, but remember to include links to your direct booking site or any online travel agencies on which your property is listed. This makes it easy for viewers to book at your place!
Learn how to #hashtag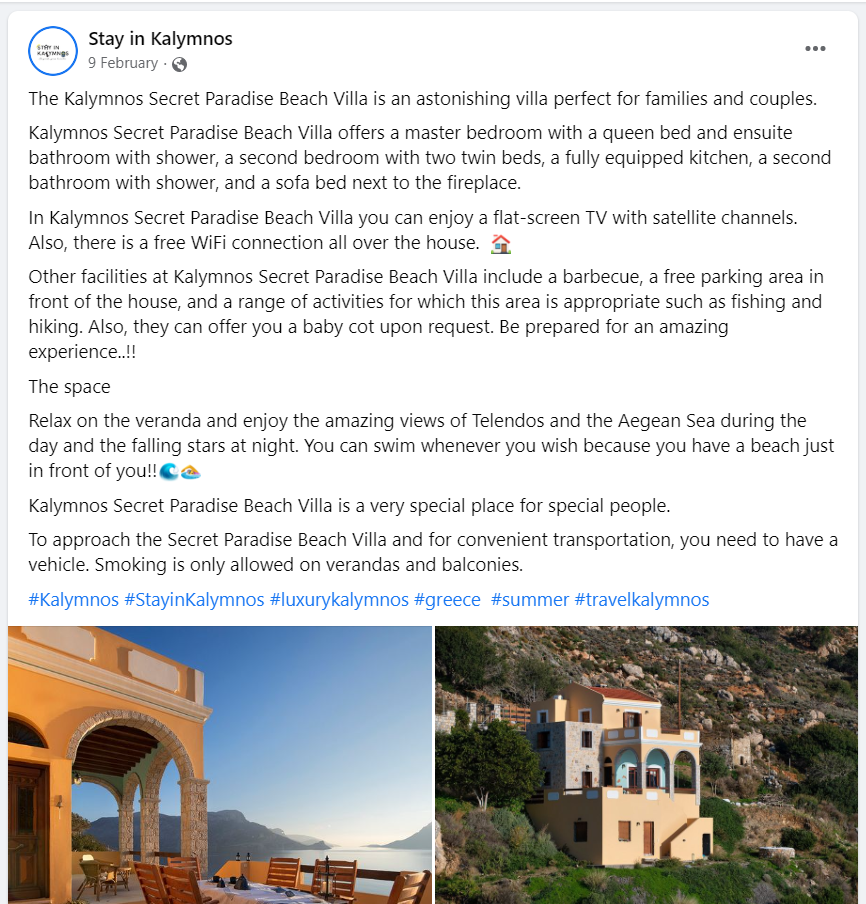 Social media is all about getting your post in front of as many eyes as possible, so tagging is a must. Hashtags are a way to mark your post in a search category and will put your post on relevant content category pages, i.e., #cabininthemountains or #luxuryvacation. Use a mix of simple and specific hashtags to get some variety, but don't use too many or it starts to look like a spam post. These are best used on platforms like Instagram or Twitter.
Variety is the spice of life
Having a mix of content on your platforms will help to engage viewers and keep your social media interesting. Include a combination of images, videos, and text to show off every aspect of your vacation spot.
Stay in touch
A great way to encourage visitors to visit your page is to be responsive to questions! Interacting with your followers is important to get more traction on your page. Focus on those in the community that you're a part of, as well as the community that you are trying to reach. If someone tags your page with memories from their stay, like the post and maybe share it! Get in touch with local restaurants and travel influencers and build up professional relationships. The more you strategically interact, the more interactions and booking you will get in return!
Curating your social media to boost your bookings isn't a dream that's out of reach. Anyone can learn the process and can become successful with a little bit of work and luck! Use these tips and see how much of a difference they can make to your booking numbers. If you need help with your social media marketing, you can also look for a Social Media Manager to take your online presence to the next level. They can take on all your social media processes and get you to the top of the industry boards in no time!