Bud and Breakfast is a pioneering platform that offers immediate access to a wide range of secure and legal cannabis-friendly accommodations around the world. It caters to travelers who not only seek choice and convenience in their lodging options but also embrace the benefits of marijuana. With a commitment to maintaining high standards of quality, reliability, and satisfaction, Bud and Breakfast provides a comprehensive network of accommodations and 420 activities. Whether guests are looking for a cannabis-friendly bed and breakfast, a vacation home rental, or immersive experiences like wine tastings and eco-adventures, Bud and Breakfast ensures that both guests and property owners receive premium exposure and a memorable travel experience centered around the healing and joyful herb.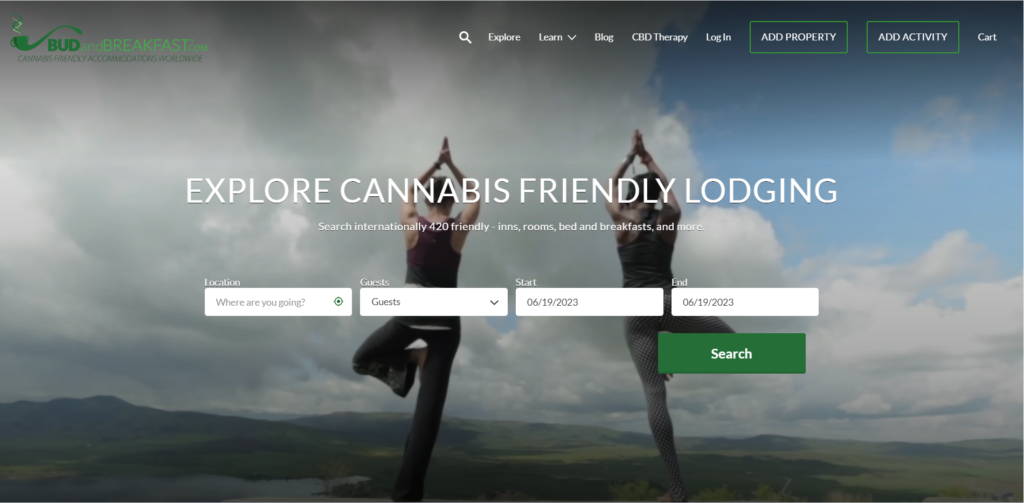 Targeting: Bud and Breakfast's target audience primarily consists of travelers who are cannabis enthusiasts, seeking safe and legal accommodations where they can enjoy marijuana during their stay. This includes individuals who appreciate the healing properties of cannabis, as well as those who enjoy the recreational aspects of the herb.
Founded: 2014 (Boulder, Colorado)
Commission: 7% per booking
Payments: The platform collects payments
Pros
Bud and Breakfast caters specifically to cannabis users and those interested in exploring cannabis culture, filling a unique niche in the market.
Cons
May have a smaller user base compared to mainstream platforms, potentially resulting in limited options for guests or fewer bookings for hosts.
Availability of cannabis-friendly accommodations and activities may be restricted based on the legality of cannabis in different regions.
Users of Bud and Breakfast may encounter societal stigma or negative perceptions associated with cannabis use.
Navigating the complex legal landscape of cannabis regulations in different locations can be challenging for both guests and property owners.
Want to sync Bud and Breakfast with your other channels?
Sign up for a 14 day free trial of Hosthub