Hosthub has always been a powerful tool to help you run your business but you can make the platform even more efficient by linking your YourWelcome and PropertyCare accounts.
Syncing Hosthub
It's a simple process to sync your Hosthub account to the YourWelcome and PropertyCare dashboard. Just follow these simple steps and you'll have everything up and running in no time.
Step 1 – Retrieve your Hosthub API key
Before connecting your Hosthub account to YourWelcome, you must ensure your Hosthub account has an API key. This can be retrieved from inside your Hosthub portal on the "Settings" section of the sidebar. Simply scroll to the bottom of that page (below Team Management) and you should see a section for API keys similar to this: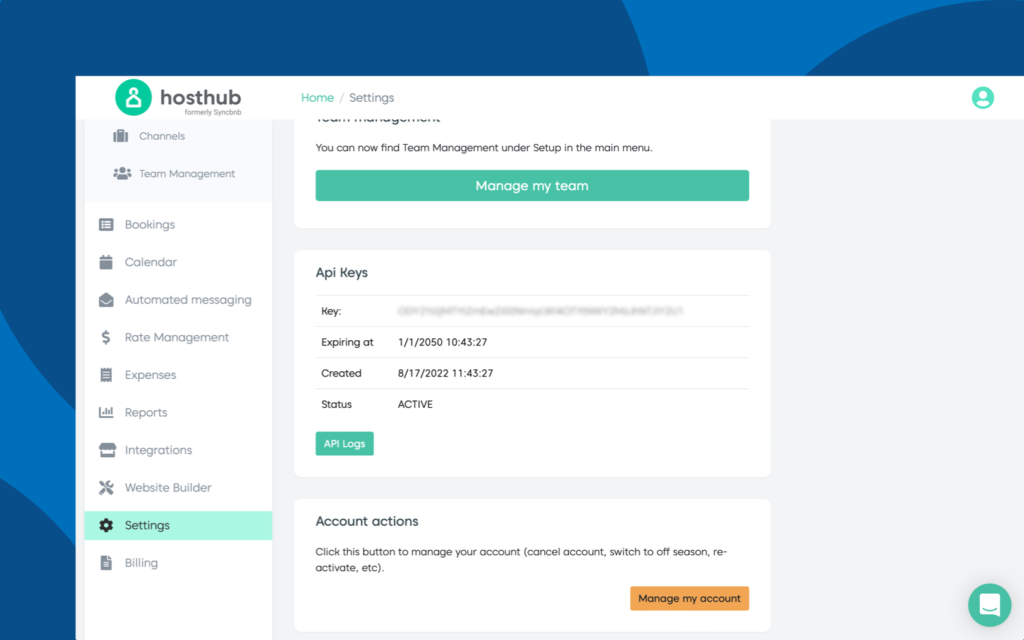 Note: If you do not see this section it's possible the API key has not been activated on your account so you will need to get in touch with our support to have this enabled.
Step 2 – Sync Hosthub to YourWelcome
Now that you have your API key simply visit the YourWelcome and PropertyCare dashboard at: dashboard.yourwelcome.com
Log in to your YourWelcome account and go to the Connected Services page (by clicking on your user icon in the top right and from the dropdown selecting 'Connected Services').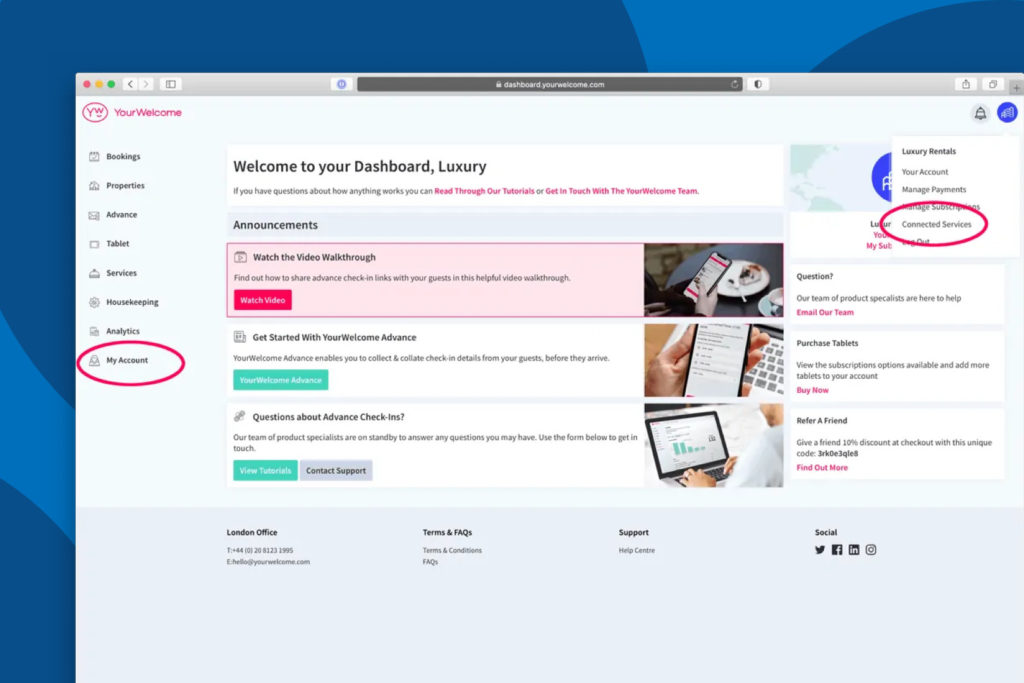 This will display a list of the various PMSs and partners that YourWelcome operates with, just find Hosthub in the list (which is alphabetical) and click the 'Connect' option on the right).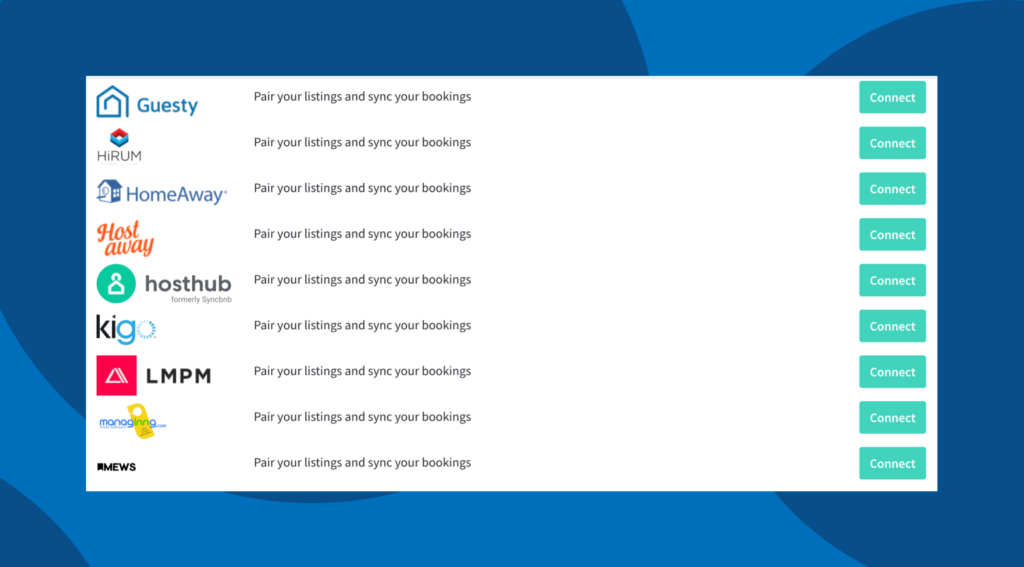 From the pop-up simply give the connection a name (we recommend leaving it as Hosthub but you may prefer to name it something else) and insert the API Key from your Hosthub account discussed in step 1 above.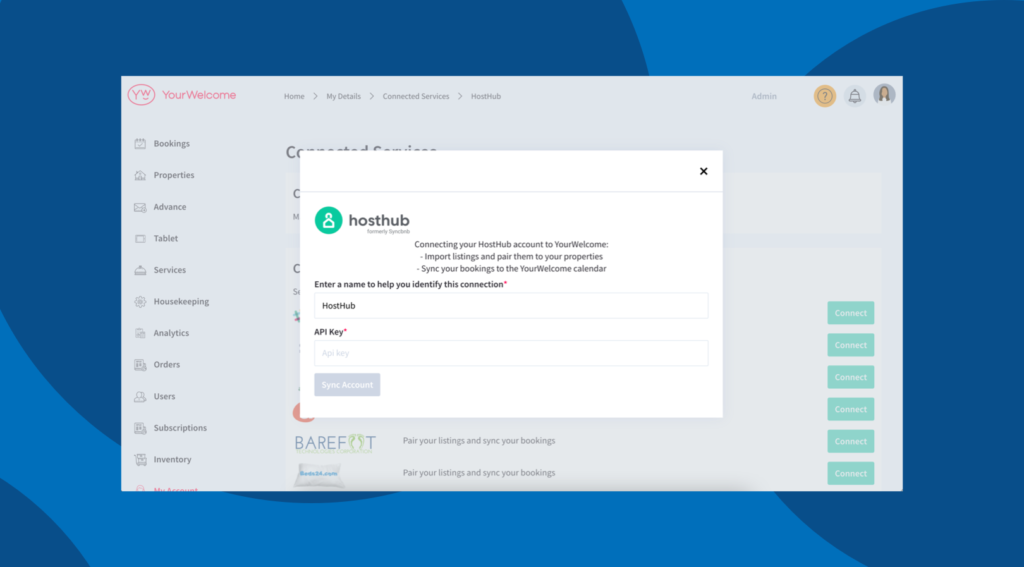 Step 3 – Sync Properties
Once step 2 is complete you should be taken to the Sync Properties page. All of your Hosthub properties should appear in a list on the left-hand side, with the option to select & sync a YourWelcome property on the right.
Syncing a property is easy – select the Hosthub property you want to pair with a YourWelcome one and select the "sync" button. You can then search for an existing property that has been added to YourWelcome's dashboard or create it as a new property.
You will only be able to utilize the number of paired properties that match the number of YourWelcome or PropertyCare subscriptions that you have paid for. Once each property you want to pair is synced, all bookings will sync from Hosthub and be imported into the YourWelcome & PropertyCare Bookings Calendar. When there is an upcoming booking, your tablets will welcome your guests by name and your tasks can automatically generate. For more info about setting up your tablets or tasks, visit the Dashboard setup support page.
That's it, you're all set. If you experience any issues with connecting your account please get in touch with us through live chat or email [email protected]