Does this scenario resonate with you?
You own a vacation rental abroad or you are a long-distance owner and have been thinking about renting out the property as a short-term rental to pay some bills. Heck, you might even make some profit! 
Up until now, you've delayed the decision because managing the vacation rental remotely seems like hard work. You're in a conundrum as to whether to pay a property manager to handle your bookings and guests or should you manage the rental business remotely? 
Hiring a property manager seems like the most simple way to get started and yet 25% commission does seem rather a lot to pay out. So what to do?
This is a typical scenario for many long-distance rental owners. Especially if you are just starting out, running your own business, or are in full-time employment. Another business commitment might not seem appealing.
Help is at hand!
If you want to maximize your profit and stay on top of your rental business, running the property remotely is the only way to go and fortunately, there are plenty of apps and services out there to support you; streamlining your role as a property owner, host, cleaner, chief of marketing, guest experience, concierge and maintenance person….!
In this article, we're sharing our favorite tips and tools to help you manage your vacation rental effectively from a distance and enjoy a bigger slice of your profits.
Automated check-in and check-out
These days, many guests are opting for an automated check-in/check-out procedure which means they have minimal contact with a property manager during their stay. 
This is partly due to Covid-19 and partly because they don't want to enter into small talk after a long trip before they settle in. It's also of great benefit for the host, especially when your guests have a late night or early morning check-in. 
There are various systems to help you check in with your guests. The original system is a simple lockbox fixed to a wall with a shared passcode. Your guests arrive, insert the code and grab the key. The next step up is an electronic lock which also allows you to provide a unique passcode for every guest.
Even better than both of these is a fully automated check-in system that you can manage from a distance. Companies, such as Radefy offer a fully integrated system that allows you to automate your check-in from your mobile. The guest downloads an application giving them access to a mobile key and passcode, which they use to enter your home. The system doesn't stop there, as a host, you can also control elements of your rental such as how long they use the air conditioning, lights, and thermostat, and if you have hospitality and maintenance staff entering the property, you can also monitor their time spent on site via the app. It has full integration with booking channels and channel managers like Hosthub.
Supply a detailed welcome book
If you would like your guests to enjoy their vacation to the max without asking a myriad of questions during their stay, you'll need to create a welcome book that preempts any questions they might have about your home, the experience, and the destination. 
In your welcome book you should include the following information:
Arrival and departure information

How to instructions for appliances, heating/cooling systems, TV, etc

Wifi codes and any other passwords

The rules of your home and community – use of swimming pools, garbage, noise, etc.

Housekeeping timetable

Towels and bed linen

Essential contact numbers

Essential amenities: closest shops, supermarkets, medical center, transport, police station

The experience/destination: recommendations for activities, places to visit, restaurant guide, things to do with kids, etc. 

Place for guests to leave you a review and any feedback on their stay
Some guest types prefer to have a paper format welcome book that is on hand in your home and which they can refer to during their stay. You can set this up in a very simple document format, which can be printed off – we recommend laminating it or putting it into a folder so that it lasts longer than one stay! And then create a pdf version, which can be emailed to the guest pre-stay.
If you want to create a more presentable guest welcome book there are free and paid-for templates available online, which will allow you to set up the pages in a more attractive presentation style. The ultimate guest welcome book is created as a digital version. It's attractive, engaging, easy to update, allows the guest to plan their stay, book activities, and leave reviews, which alleviates further the need for questions during a stay. 
All of your information is stored in one location and packaged up into your digital welcome book, which can be shared with your guest via a link. They have access to the information in their language and Google maps links to find your recommended places. It's a total win-win for you and your guest. One of the best digital welcome books on the market is Touch Stay. Why don't you pop over and take a look?
Home automation systems
There are plenty of smart gadgets out there that will automate your home systems, allowing you to control devices such as home security, heating, and cooling systems, lighting, noise control, and of course keyless access, which we discussed earlier. 
A home automation system is a great way to improve energy efficiency and reduce utility costs, especially when you have guests that aren't conscious of switching off lights and air conditioning during their stay. 
Home automation systems also offer real-time intelligence from your mobile or central dashboard system which helps you to create an efficient process for busy changeover days. 
For example, you receive an alert that your guest has checked out, this alert also goes to your housekeeper and property overseer who head straight in to check that everything is in order (for security deposit return) and for the changeover cleaning to take place.
Find a reliable housekeeper or cleaning service
If you decide to manage your vacation rental remotely you will still need a reliable and professional person on the ground for change-over cleans and to handle any problems during the guest stay. Whether you decide to hire a cleaning resource or a housekeeper will depend on the level of service you offer to guests. 
If you have a luxury vacation rental and would like to offer a high-level service we recommend you hire a housekeeper who will be your problem-solver, oversee cleaning and attend to the needs of your guests. A good housekeeper should know exactly how the property must be presented, how things work, and where they can be found.
Alternatively, take the time to find a reliable and professional cleaning and laundry resource who you can trust to carry out changeovers and mid-stay clean to a high standard. 
A headache-free alternative is to sign-up for a service such as Doinn which will organize your cleaning and laundry for you with certified and professional cleaning companies in your area. 
Keep a list of quality contractors
Even though you are handling the ongoing management of your vacation rental from a distance, it's still essential to do upfront research on the most reliable services and contractors in your local area. 
If you get a call from a guest in the middle of the night telling you they are locked out of your home, you will need to have a reliable 24-hour locksmith and if they call to tell you the air conditioning isn't working, you need a specialist on-hand who offers same-day service.
Any delay in solving your guest's problem and your reviews will start to drop from 5 to 4, to 3… You get the idea.
Finding reliable and quality contractors isn't easy. Ideally, you should source someone who has come highly recommended by someone on-the-ground and also has a Google review rating or similar. We also recommend that you service agreement upfront which ensures that your contractor is able to stick to guaranteed turnaround times for emergency maintenance and repairs during a guest stay.
Market your Property
Managing the marketing of your vacation rental may seem like a tall order and one you would prefer to leave to a property manager, but once you have set up the different channels, it's relatively simple to automate the running of each and you get to control how you present your accommodation and enjoy direct contact with guests.
Guests prefer to be in communication with the owner as it gives them confidence during the booking stage, asking the questions that help them make the final decision to book. Importantly from a host perspective, you can vet enquiries and be more choosy about who stays in your property. 
If you want to maximize guest bookings and profits you must look to create direct booking opportunities rather than just advertising your property on an OTA (online travel agent) such as VRBO or Airbnb who charge booking fees and commissions on each booking. 
Setting up your own book direct website, social media channels, and winning subscribers to your email newsletter, gives you even greater freedom to run your vacation rental business how you want to. You get full access to guest data, personal contact with your guests, and of course zero booking fees and commissions. It's a win-win situation!
Get a channel manager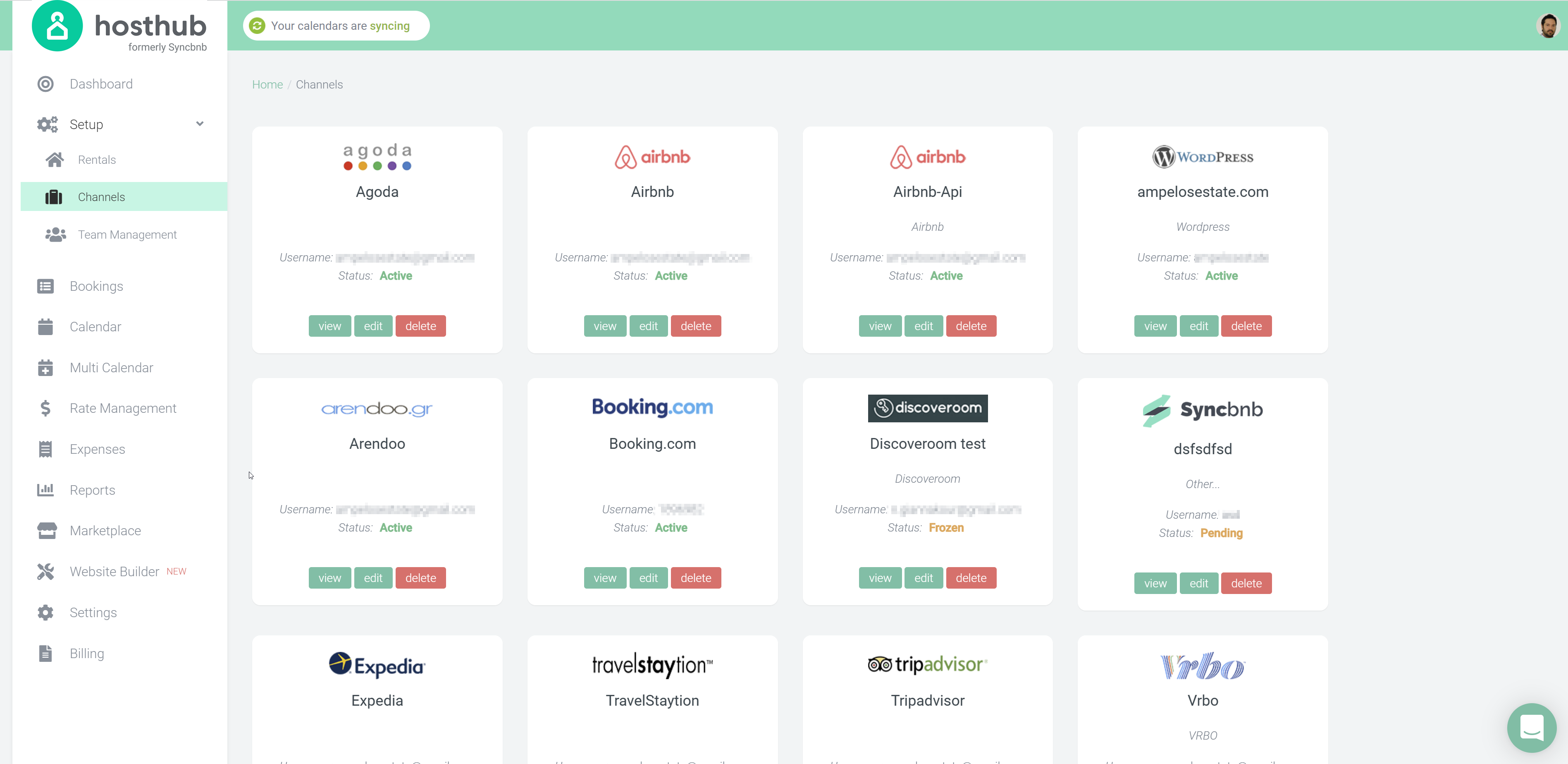 Our final recommendation is to invest in a channel manager for your vacation rental. A channel manager is a tool that adds so much value to your business and dramatically cuts down on the time you need to manage the property remotely.
The Hosthub channel manager synchronizes up to 200 channels to help you increase your rental bookings and cut down on issues such as bad calendar management, leading to double bookings.
With a channel manager you can sync your calendars across your own book direct website and your OTA listings; manage a single or multiple properties and guest bookings in one dashboard, and have access to valuable data reports and features which will give you an overview of your bookings, rates, and business.
Ultimately, a channel manager will help take your vacation rental business to the next level.
So you see, with all of the tools and resources out there in our hospitality industry, managing your vacation rental remotely is not such a daunting prospect after all!