Listing your property on multiple platforms has become quite an attractive business idea. You create your account, upload photos, write a description and you think you're done. But that's not all it takes to create a successful listing.
It's not uncommon for vacation rental owners to feel frustrated when they find that their property does not attract travelers. But you are not the only one who faces such challenges. The good news is we are here to help, bringing our considerable experience and expertise to bear.
Before disappointment grows further and frustration gets the best of you, it's important to take a step back and determine if there are any solutions for you to consider.
In this blog post, we'll discuss five potential reasons why your property may not be booking as many reservations as you hoped it would and offer specific solutions so that you can get the most out of your vacation rental.

In our expert opinion, here are five of the most common reasons together with potential remedies:
Many vacation rental owners are confused about how to set their rates and it is known to cause a great deal of anxiety. Your pricing policy should be determined by the location, size, and condition of the property.
Competition is fierce these days and pricing your rental properties competitively in relation to the other vacation rentals in the area will help you as a business owner or manager remain in the game. You need to keep an eye on the competition: in order to be successful, your rates should reflect the kind of vacation experience you offer. 
A vacation rental that offers certain amenities such as free wifi, an updated kitchen, fresh linen can make all of the difference when competing for renters. Do you have a larger bedroom? A beautifully finished kitchen? Stunning furniture? Reliable WiFi? Fun little gifts which you leave for your guests? Better quality bathrooms? These little extra perks go a long way!
We're not usually the best judges of our own properties, so bringing in a trusted friend or relative is always helpful! Ask them how much they would pay for your property. Let them judge your rental objectively.
If your house doesn't have any special features, there are many other ways you can increase its value, and thus, increase its revenue.
The description is the first thing people see after they click on a listing. Owners need to make sure that they include detailed references to key amenities, adopt an inviting tone for their presentation, and use keywords that will draw travelers' attention.
The number one reason that puts people off renting a vacation rental is the lack of information, particularly about what's included in the property. If your property happens to poses a unique characteristic, owners ought to make sure that feature is adequately praised in order to gain the appreciation it deserves. Perhaps there is an amenity that you should be highlighting to draw more attention to your rental. For example, if your property has an amazing view, proximity to a popular attraction, or even a large number of bedrooms these features ought to be especially highlighted.
Don't just give details about the space. Pretend that you're the guest and that you're seeing your place for the first time. What's the first thing your guests would notice? What would they want to see? What will they be most interested in? If you're using a channel manager, like Hosthub, for your bookings, make sure the descriptions are aligned with all your rentals.
Based on relative data collected from various surveys, we have seen that updating the property's description can hugely impact booking results – sometimes doubling or tripling your numbers.
Travelers' feedback is extremely important. Over 50% of all online travelers read online reviews before they book a trip, according to research from TripAdvisor and 92% of those consumers have said that the review influenced their decision!
Contrary to what one might think, guests are actually more likely to leave negative reviews on sites like Airbnb and Booking .com. The main thing to remember is the fact that bad reviews are not a direct reflection of who you are as a person. A lot of hosts tend to take reviews personally, getting defensive instead of staying professional, and it shows in your written reply.
A lot of bad reviews are a direct result of miscommunication or a simple misunderstanding. We recommend calling the guest to figure out where it went wrong. Take time to let them know you'll be working on their suggestions and thank them for their feedback.
Every time you have a guest, don't be shy to ask guests for a review! Additionally, if you follow the tips included in this link, your guests will be more than happy to provide feedback.
Many properties are situated near locations or facilities that render them unique and which offer additional sources of pleasure and satisfaction for their guests. An owner would be remiss not to include them in the presentation of their rentals. 
Although it is not a requirement, imagine making their stay that much more enjoyable by simply providing a list of must-visit local landmarks close to the apartment. You can even add in some recommendations for guided tours, menus to local restaurants, nearby parking, and perhaps some tickets to popular events in the area.
After all, a  great vacation rental experience is all about creating memories that last.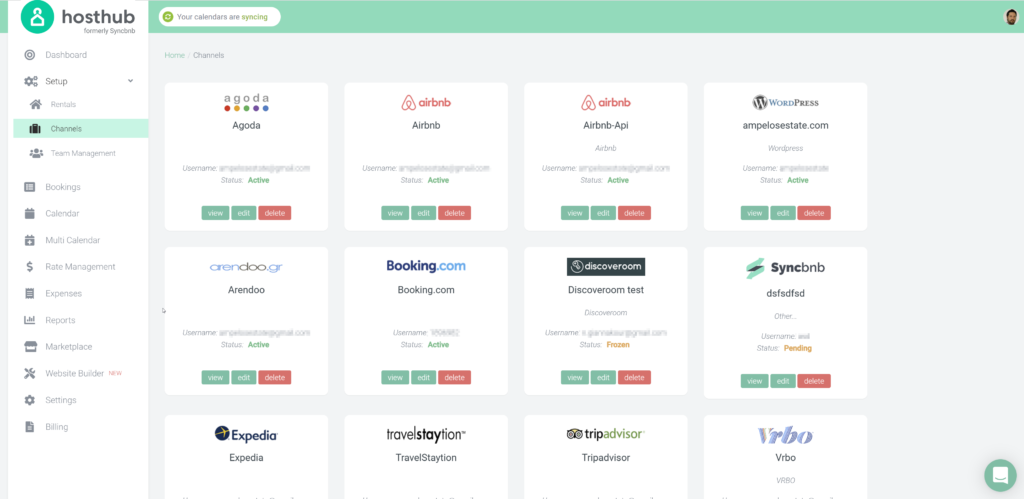 By listing your property on multiple websites, you increase the likelihood of being more visible to potential guests. It is a great way to reach out to a diverse audience and raise your bookings. You certainly target a specific group of people and in that way, you stay committed to your customers and your beliefs. However, we suggest that you become more open-minded and advertise your property on a website with a different target group. That will certainly attract more bookings as new customers will view your rental and, why not, customers with a different budget. All you have to do is a small research to decide which websites are the most suitable for you.
You can always check one of our previous posts about niche or luxury booking sites.
A summary of how booking websites determine their search results:
Most websites take a lot of factors into account. While it may seem overwhelming at first, the fact is, everything is 100% within your control!
How competitive your price is.
How appealing your description is.
How many positive reviews you have.
How updated your calendar is.
What your acceptance rate is.
How often you cancel a booking.
Using Instant booking (Trust us!).
How well you use referrals.
How frequently you log in.
How quickly you reply to reviews!

For more tips about how to increase your bookings you can check out these posts:
It's easy. Algorithms thrive on data and you can control data. The more information you have on your listing and the clearer your descriptions are, the more you will understand how algorithms work and the more bookings you'll get by ranking higher on the search results!